What NFL owners have said about CTE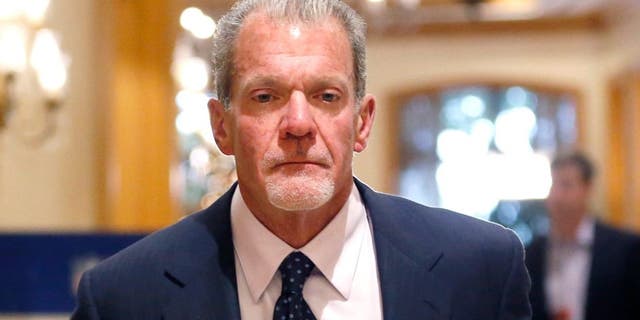 Indianapolis Colts owner Jim Irsay raised a few eyebrows Monday with his controversial comments comparing the dangers of playing football to the risks associated with taking aspirin, but Irsay is hardly the only NFL bigwig to speak publicly about concussions and CTE as they relate to football over the last several years.
In fact, more than half of the league's teams have had their owners or other high-ranking officials talk candidly about the link between brain injuries and football, which is arguably the most controversial and pressing issue facing the league today.
Here's a look at Irsay's recent statements regarding concussions and those made by 17 other NFL owners, chairmen and CEOs over the last five years. And if there's anyone or anything we missed, please feel free to let us know:
Bengals -- Mike Brown
In July 2013, Bengals owner Mike Brown described potential links between concussions and dementia as "speculation" in an interview with the Cincinnati Enquirer.
"No one really knows what concussions mean, especially as you grow older," Brown said at the time. "It's not only not proven, it's merely speculation that this is something that creates some form of dementia late in life. Our statistics -- the ones I've seen anyway -- don't show that. I'm not convinced that anybody really knows what concussions bring, what they mean later in life if anything."
More recently, in late 2014, Brown described concussions as a "challenge to the game," telling Cincy Magazine, "it's not fully understood what concussion means in the short run and the long run. I'm not persuaded there is evidence that we totally understand the long-range impact."
Browns -- Jimmy Haslam
Jimmy Haslam said that he did his "due diligence" researching concussions and the affect they could have on the team's bottom line before he bought the Browns for $1.1 billion in late 2012.
"I think we feel very good there is no smoking gun that is going to come back like there was in cigarettes," Haslam said, according to Sports Business Daily. "Everyone I have talked to, and I have talked to all kinds of people, feels very good there is no kind of suppressed evidence."
Still, Haslam indicated that he wanted to make player safety a priority.
"The challenge for the NFL is the proper balance," Haslam said. "Face it: Football is a violent game, and every player who signs up for it understands that, and that is part of why it is so popular. And still, protecting the players from head injuries (is crucial)."
Steelers -- Dan Rooney
The University of Pittsburgh Medical Center is home to one of the leading concussion programs in the country, and in November, UPMC's sports complex was renamed in honor of Steelers owner Dan Rooney.
"Right down the street now, we have the largest concussion clinic in the country," Steelers president Art Rooney II said in a press release announcing the agreement. "UPMC sees more concussion patients than anywhere else in the country, and so the research they're able to do because of that is very important. We're excited to be a part of that and excited to be able to continue to work with the professionals at the Concussion Clinic on understanding the injury, and most importantly, understanding how to treat the injury. They've made great strides over there, and we look forward to being able to help them continue that research."
Previously, Rooney had spoken publicly about the way rule changes impact the way the game is played.
"I understand our players when they say they're not sure what they can do at this point," he told the New Yorker in 2011. "We are asking a lot of our defensive players, in terms of watching where they hit somebody, when everything's happening so fast out there. What we're asking them to do is not easy. That's in addition to the fact that we're also asking them to do something different from what they've been trained to do over the years."
Texans -- Bob McNair
At last week's NFL owners meetings, Texans owner Bob McNair questioned whether there is a definite link between football and CTE.
"I think it's an important issue," McNair said, according to ESPN. "I'm more concerned about the misconceptions people can have about it than I am about what's really taking place. We're studying this issue closely, more than anyone else. We've put up money for research before anyone else did. Our medical scientists still don't know what the cause of CTE is. It appears that if you've had multiple concussions from whatever you've been doing, riding a bicycle, skateboarding, it's not just football, that there's a possibility it could lead to CTE."
In the same interview, McNair also intimated that the process by which CTE is found is flawed, while also arguing that the NFL and its teams are not "downplaying" the seriousness of the concussion issue.
"We don't know does CTE exist among people who've never had any contact? We don't know," McNair said. "Because when you're alive they can't check for it. The only players, the brains that have been checked, were ones who clearly were having problems. So it wasn't a scientific sample that they were dealing with. We've got thousands of players who are not suffering from dementia of any type. So we have a lot to learn yet.
"But we're not downplaying it. We've changed the rules to try to protect the players. We're looking at equipment changes to protect the players. I think we've convinced the players that if you have had a hard hit to the head and you feel like you've been concussed, don't be ashamed to say I need to come out, whereas before that was their attitude so it was never reported to us. But now they recognize that's not smart. If they have a concussion, report it, come out, let us check 'em out. If they're OK, fine, go back in, but if they've definitely been concussed, then they don't go back in."
Colts -- Jim Irsay
In an interview with Sports Business Journal published Monday, Colts owner Jim Irsay compared the risk of playing football to that of taking aspirin.
"I believe this: that the game has always been a risk," Irsay said. "Look at it. You take an aspirin, I take an aspirin, it might give you extreme side effects of illness and your body ... may reject it, where I would be fine. So there is so much we don't know."
Irsay also said players understand the risks involved with football when they step on the field and downplayed the connection between football-related brain damage and suicidal or violent behavior.
"To try to tie football, like I said, to suicides or murders or what have you, I believe that is just so absurd as well and it is harmful to other diseases, harmful to things like ... when you get into the use of steroids, when you get into substance abuse, you get into the illness of alcohol and addiction," said Irsay, who has previously gone through rehab for prescription painkiller addiction.
"It's a shame that gets missed, because there [are] very deadly diseases there, for instance, like alcoholism and addiction. That gets pushed to the side and [a person] says, 'Oh, no. Football.' To me, that's really absurd."
Jaguars -- Shahid Khan
While Jaguars owner Shahid Khan has not addressed the issue of concussions at length, the Florida Times-Union reported in September 2013 that Khan, who bought the team in 2011, "told the Times-Union editorial board that he was confident the league would do the right thing in regard to the mounting evidence that concussions were causing life-threatening injuries to NFL players."
Patriots -- Robert Kraft
Late last week, at an event in Boston, Patriots owner Bob Kraft said that the life lessons learned via football are worth the risks players take when they step onto the field and added that the game has "never been safer."
"Any contact sport, whether it's women's soccer, hockey or football, there are going to be concussions," Kraft said, according to CSNNE. "I'll tell you this, that I think the game has never been safer from an equipment point of view, from a medical point of view. I know I played, two of my sons played, my three grandsons play so we have three generations playing the game, and I think the life lessons that you get playing football are worth the risk."
That falls in line with comments Kraft made in the wake of the NFL's $765 million concussion settlement in 2013, when he praised the job commissioner Roger Goodell was doing addressing the issue of head injuries in the league.
"Well, I think we've seen great leadership from Roger Goodell and (NFL executive) Jeff Pash on this issue," Kraft said, according to NFL.com. "This is something that concerns all of us. I think the fact that before the season started they were able to get it settled and done. And that's something that happened in the past -- I know how much we're doing to focus on safety and health issues for all of football, starting with Pop Warner, coming up.
"We're devoting a lot of research, energy, and this is still the greatest game on earth. And you learn so much about life playing football. ... I think it's really captivated the American public, and we have to be sure we're being diligent in keeping it healthy and strong. Young mothers want to let their children play football, and I think this is a step in that direction."
Jets -- Woody Johnson
In another recent Sports Business Journal story, Jets owner Woody Johnson declined to comment specifically on the issue of concussions, but seemed to make a point of distancing himself from NFL executive VP of player health and safety Jeff Miller, who earlier this month made a powerful statement statement acknowledging a link between CTE and football.
"I am not in a position (to talk about the link between CTE and football)," Johnson told the Journal's Daniel Kaplan, via PFT. "I am a layman. (Jeff Miller) is a layman as well."
Chiefs -- Clark Hunt
In 2014, it was discovered the Jovan Belcher's brain showed signs of CTE upon his suicide in 2012, but shortly after Belcher's death, Chiefs chairman Clark Hunt described the Kansas City linebacker as "a player who had not had a long concussion history." However, Hunt has not made public comments on the issue since.
Bears -- Virginia Halas McCaskey
While the 93-year-old Bears owner has not commented on the issue of concussions, her son, team chairman George McCaskey has, speaking to the Chicago Tribune in advance of the release of the "Concussion" movie.
"Any attention on player health and safety is a good thing," McCaskey told the paper in December. "The NFL has made changes in recent years, rules changes. Research is being funded. We need to improve the science. We need to improve the equipment. We need to improve the rules. We need to improve rules enforcement. And we think that the changes that we're making in the NFL will filter down to all levels -- college, high school, youth and all other sports."
McCaskey didn't address the issue of CTE, specifically, but did indicate that he felt the league was doing well in its efforts to make the game safer when asked about football's ability to survive the uptick in concussion awareness.
"That's something that the commissioner emphasizes at just about every league meeting," he said. "Whatever we're doing, we need to do more. But participation is down in all youth sports. And concussions and things of that nature aren't unique to football."
Packers -- Mark Murphy
At last week's NFL owners meetings Mark Murphy, CEO of the publically owned Green Bay Packers, told USA Today that "no question the biggest issue facing the league and football in general is safety, and particularly concussions."
That falls in line with comments Murphy made in November to the Milwaukee Journal-Sentinel in which he stated that, "We had allowed a culture, the game, to evolve to where the helmet was being used as a weapon."
"I think the rules we have instituted over the last five to 10 years have really been effective," Murphy added in that same Journal-Sentinel interview. "You don't see players using helmets the way they used to. Players used to talk about kill shots -- I want to knock somebody out. That's been taken out of the game."
Murphy has remained consistent on the issue dating back as far as 2011, when he told Forbes, "I worry about (concussions), for the future of the game and for the future of the players, too. Everybody wants to do the right thing. Certainly, the health and safety of the players is paramount, but I do think you have to be careful not to change the nature of the game and what makes it so popular."
Panthers -- Jerry Richardson
Panthers owner Jerry Richardson has not made public comments on the issue of player safety, but according to a 2011 Yahoo report, the fast food magnate responded to player safety statistics presented by former NFL wideout Sean Morey -- who retired from the game due to concussions -- during a bargaining session with the following comment: "You guys made so much (expletive) money -- if you played three years in the NFL, you should own your own (expletive) team."
Cowboys -- Jerry Jones
One of the most outspoken owners in the league, Jerry Jones made arguably the most definitive statement from any NFL owner yet regarding concussion safety, telling the Washington Post that it's "absurd" to believe there's a clear link between football and CTE, as Jeff Miller suggested.
"We don't have that knowledge and background and scientifically, so there's no way in the world to say you have a relationship relative to anything here," Jones said, according to the Post. "There's no research. There's no data. ... We're not disagreeing. We're just basically saying the same thing. We're doing a lot more. It's the kind of thing that you want to work ... to prevent injury. A big part of this is prevention. But the other part of it is to basically understand that we don't know or have any idea that there is a consequence as to any type of head injury in the future.
"That has to have a lot of research, just as the heart did 50 years ago," Jones continued. "And certainly everybody that had heart issues 50 years ago didn't live a normal life. Nature takes care of that. So no, I didn't think at all that (Miller's) statements altered anything. ... It didn't alter anything about where we are."
And like Irsay, Jones also invoked aspirin in his defense of the game.
"There's no data that in any way creates a knowledge," Jones said. "There's no way that you could have made a comment that there is an association and some type of assertion. In most things, you have to back it up by studies. And in this particular case, we all know how medicine is. Medicine is evolving. I grew up being told that aspirin was not good. I'm told that one a day is good for you. ... I'm saying that changed over the years as we've had more research and knowledge."
Giants -- John Mara
At the recent owners meetings, Giants owner John Mara called concussions the "No. 1 issue" facing the NFL and said the league "has to do more research" on the issue while denying that the league is "hiding from" the dangers of football as they relate to brain injuries.
"I know a lot of people accused us of hiding from it in the past, but I certainly don't think that's the case anymore," Mara said, according to the Detroit News. "We're spending a lot of money trying to get ahead of this thing to try to get some answers."
"We understand more than we did years ago, but we're still not even close to having the knowledge that we need to have going forward," Mara continued, according to NJ.com. "That's why we're spending millions of dollars on research, trying to understand more about this issue. That's why we have the leading experts, we think, in the country on our health and safety committee."
In addition, Mara stated that Miller's recent comments on the issue were not "any startling revelation."
"I didn't really think what he said was anything new. I know it was portrayed that way," Mara said. "Listen, there's no secret that repeated concussions can have a serious, long-term effect."
Eagles -- Jeffrey Lurie
Eagles owner Jeffrey Lurie has not specifically addressed the issue of CTE or concussions, but his ex-wife, Eagles minority owner Christina Weiss Lurie, has. At a November 2014 conference, Weiss Lurie stated that she would let the couple's son play football despite growing evidence of head injuries associated with the sport.
However, while she argued that football was not dangerous at the NFL level, she also acknowledged that she would only let her son play with proper medical personnel on hand.
"By the time the players get to the NFL, they have suffered 10 or so concussions," Weiss Lurie said, according to the Huffington Post. "We need to worry about the 10-year-olds that get hurt during a game. Their brains are not fully formed."
Cardinals -- Bill Bidwell
Arizona Cardinals owner Bill Bidwell has remained quiet on the topic of concussions, but Cardinals coach Bruce Arians has not, recently stating that people who say they wouldn't let their kids play football are "fools."
"There are more concussions in girls soccer than in football at that age, but no one says we gotta stop playing soccer," Arians told The MMQB. "It's the same thing with knee injuries. There are more knee injuries at eight to 12 in soccer than in football. You can find all the statistics you want if you want to crucify something."
49ers -- Jed York
In late 2013, 49ers owner Jed York took on the issue of concussions, telling KRON 4 that doctors should have the authority to override players and coaches in the case of a suspected concussion.
"What we need to do is continue to make our game safer. Unfortunately for us, from a game standpoint, Vernon Davis had a concussion," York said. "He wanted to go back into the game and the doctors wouldn't let him go back into the game, and ultimately that's the best thing for the league, is to have a guy that wants to play but the doctors say, 'No, you can't. You suffered a concussion, you need to sit down.' I think that's where the league is going, and I think that's a good thing for player health and safety."
Seahawks -- Paul Allen
In November 2013, Microsoft co-founder Paul Allen, the owner of the Seattle Seahawks, funded a two-year, $2.4 million study that, according to the Seattle Times, was meant to "examine the brains at the structural, cellular and molecular levels, looking for changes related to traumatic-brain injury."
"I really do care about the health of the players," Allen told the Times in 2014. "That's one of the tough things about the NFL -- it's so physically tough on the players. The careers are usually on the shorter side. Anything we can do to help with their physical therapy and all that is really important. I'm trying to do some things with my brain institute to understand more about the impact of concussion on brain tissue, because we have some scientists over there who are really good at looking at brain tissue and the effects of things on brain tissue."
Allen also expressed the same commitment to research in an interview with Forbes.
"We've talked extensively with the league about the kind of research that should be done and that we want to do," Allen told the magazine in 2014. "We've specialized until now on the genetic characteristics of brains and how cells are affected by different conditions. Now we're going to get some brain tissue from a bunch of different sources.
"You can have concussion trauma from all sorts of things, like IEDs in Iraq and motorcycle accidents. We're going to look at some of this tissue and see how it differs from some of the tissue we've already scanned and have in our data banks to see how genetic characteristics have changed.
"But it's going to take us a few years to get a better handle scientifically, at a very detailed level, what happens when you get a concussion. We're cooperating with some of the same scientists that the league is working with. We've talked about everything from helmets to measuring impacts in real-time on the field."
You can follow Sam Gardner on Twitter or email him at samgardnerfox@gmail.com.