What is behind Stanford's offensive resurgence?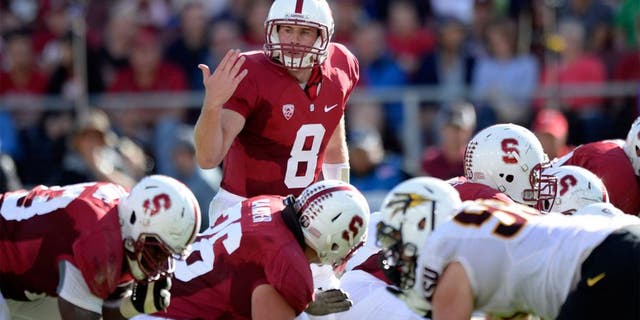 NEWYou can now listen to Fox News articles!
Going under center has yielded tons of success this season for Stanford. Bob Stanton USA Today
Stanford's season-opening loss to Northwestern was an mitigated disaster, especially offensively. However the Cardinal have rebounded in spectacular fashion.
In the loss to Northwestern, Stanford scored only six points and averaged 3.9 yards per play. However, in the five games since that loss, the Cardinal are averaging 45 points per gam and 7.3 yards per play. Stanford is also converting 53 percent of its third-down chances. The team converted only 20 percent of those opportunities against Northwestern.
How did the Cardinal turn it around so quickly? Well, there quite a few reasons, including a stronger, more cohesive offensive line and the play of sophomore superstar Christian McCaffrey.
However, the Cardinal have also been lining up under center more. As a result, the run game has become stronger and QB Kevin Hogan has found more success down the field out the play-action.
Against Northwestern, the Cardinal only lined up under center 19 times. However, over the past five games Stanford has averaged 35.2 snaps per game from under center, per ESPN.