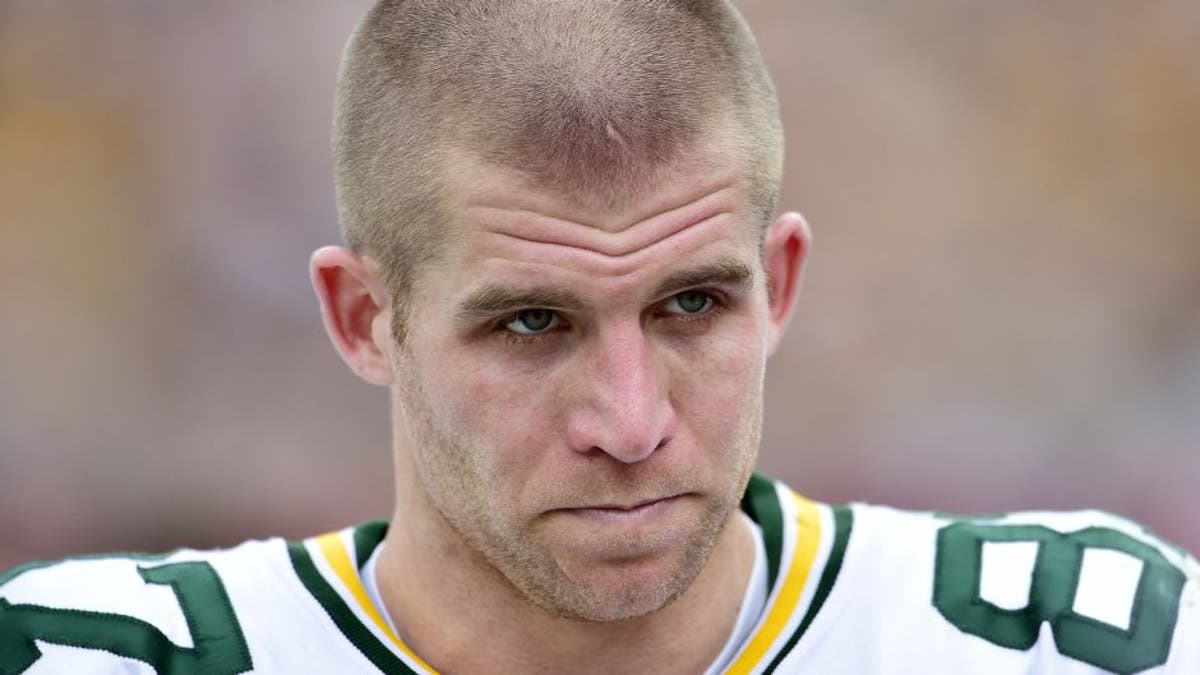 The Green Bay Packers lost their second preseason contest to the Pittsburgh Steelers, 24-19, in what quarterback Aaron Rodgers somberly afterward called a "meaningless game."
As are all of the NFL exhibitions, it was indeed meaningless in that it did have a direct impact on the team's regular-season record, standings or ambitions. But the Packers lost much more than the game Sunday; they may have lost No. 1 wide receiver Jordy Nelson for the year.
Nelson, who fell awkwardly to the ground after catching a pass from Rodgers and limped off the field, may have torn his ACL, according to some preliminary media reports. The Packers did not make any official announcements, and Mike McCarthy declined to offer any prognosis after the game other than to say he hoped for good news about his star wideout.
If Green Bay is without Nelson -- the team's best deep threat who had 98 receptions for 1,519 yards and 13 touchdowns last year -- for the season, the entire complexion of a dynamic offense changes. That much we know.
What else do we know, and what else is still uncertain? Let's go back and find out what we may have found out.
5 things we learned:
-- Scott Tolzien, who was 11 of 19 for 102 yards passing and a touchdown (90.2 QB rating) against Pittsburgh -- following up his 102.9-rating preseason game last week -- has proven himself a bona fide backup quarterback and someone Green Bay can trust to win games if Rodgers gets hurt.
-- Second-year tight end Richard Rodgers, who's been lauded by coaches throughout training camp as a much-improved blocker and receiver, caught three passes for 30 yards, including a 21-yard touchdown from Tolzien, and is challenging Andrew Quarless for the starting job.
-- Mason Crosby, who struggled badly in 2012 before having excellent seasons in 2013 and 2014, is now incontrovertibly an elite field-goal kicker, as he's been nearly flawless in practice and nailed a 55-yarder against the Steelers.
-- The No. 1 offense is balanced and effective, as Rodgers and Lacy -- with all but one of the starting offensive linemen playing -- led the Packers on a 10-play, 80-yard scoring drive, with the quarterback completing 4 of 4 passes for 63 yards and the running back carrying five times for 23 yards and a touchdown.
-- For the second preseason game in a row, two out of three rookie cornerbacks were impressive, as first-round pick Damarious Randall had three tackles and the game's only interception in his pro debut and undrafted free agent LaDarius Gunter again was exceptional, while second-rounder Quinten Rollins followed up a very good opener by getting burned on a 54-yard pass play.
4 things we still don't know:
-- Are the injuries to right guard T.J. Lang (possible concussion) and defensive end Datone Jones (knee), both of whom left the game, serious issues that will hurt both lines?
-- Is Don Barclay, who followed up a poor performance at right tackle in the preseason opener with a bad outing Sunday at left tackle -- giving up two sacks and a holding penalty -- going to recover well enough from last year's torn ACL to even be a serviceable backup?
-- Is rookie third-rounder Ty Montgomery, who didn't have a catch against Pittsburgh and was pedestrian as a returner (one kick return for 13 yards, one punt return for 10 yards), his second straight game without a big play, as dynamic as he's looked in training camp?
-- Is Green Bay's special teams, which on Sunday struggled with multiple penalties, a muffed punt return and a 29-yard shank by punter Tim Masthay, improved over the unit that last year was among the league's worst?
3 key stats:
-- Besides Lacy, the Packers' running backs (backup James Starks and a trio of players fighting for the third-string job in Rajion Neal, John Crockett and Alonzo Harris) carried the ball 10 times for 21 yards (2.1 average).
-- The Packers won the turnover battle against the Steelers, 2-0, with Randall's interception and second-year linebacker Adrian Hubbard's fumble recovery.
-- Green Bay committed nine penalties for 101 yards on Sunday, far above their 2014 averages of 6.7 and 56.8 per game in 2014.
2 top performances:
-- Gunter, who has virtually assured himself a spot on the 53-man roster with superb performances in training camp and both preseason games, had three passes defensed against Pittsburgh, including one where he ripped a would-be catch out of a receiver's hands.
-- Lacy had another strong preseason game and seems to be in great form, rushing six times for 30 yards (5.0 average) and a touchdown.
1 big moment:
-- The biggest moment was also the worst one for the Packers, as Nelson caught a first-quarter pass from Rodgers, turned up field and took a couple of steps, then crumped to the ground without contact, perhaps ending his season.
Next: Saturday, Aug. 29 against the Philadelphia Eagles at Lambeau Field.
Follow James Carlton on Twitter