What did it mean? Packers-Eagles preseason game recap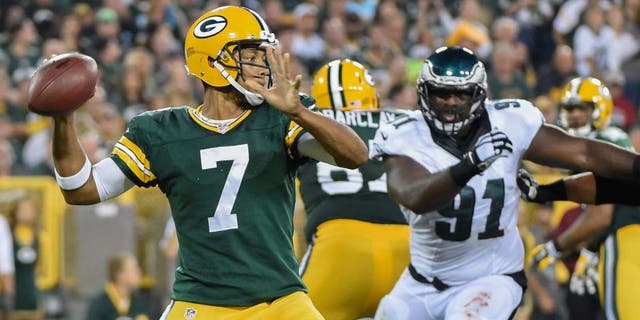 With Aaron Rodgers in sweatpants before kickoff, this preseason game was even less about the score and final result and which players could stand out.
But of course, things never work out the way you want. Green Bay lost to Philadelphia 39-26 in the Packers' third preseason game -- ho-hum, I know -- but this "meaningless" affair was tainted by yet another injury to a wide receiver and a pretty poor first half, at least from Green Bay's vantage point.
Not everything that came out of this game was bad (hey, the Packers did score 26 points and put up nearly 500 yards of offense), but there's some work to be done before the Sept. 13 regular-season opener.
With one preseason game left to straighten things out, let's break down the Packers' third exhibition effort.
5 things we learned
-- The Packers obviously don't own bubble-wrap. If they did, they'd have wrapped up Davante Adams in it. It only took three offensive plays for another Green Bay receiver to get hurt, this time it was Randall Cobb, the new No. 1 wideout with Jordy Nelson out for the year. Cobb's injury doesn't seem serious, but every time Cobb or Adams gets up slowly this year there will be a lot of breaths being held.
-- Sam Barrington might be the new leader of the defense -- he did have a team-high eight tackles -- but he struggled in coverage against the Eagles and surely other teams will pick up on this. Among his coverage assignments were touchdowns to Darren Sproles, who outran Barrington, and Brent Celek, who got behind the linebacker. Barrington also allowed another long gain to Sproles and a near-touchdown to Miles Austin, who was tackled at the 1.
-- Given an opportunity against a first-team defense, Brett Hundley acquitted himself quite well. In the first half -- when Philadelphia mostly played its first team -- the rookie quarterback completed 10 of 17 passes (58.8 percent) for 207 yards with a touchdown and interception, and the pick wasn't really his fault as the receiver fell down. Overall, Hundley finished 22 of 31 (70.9 percent) for 315 yards with two TDs and the INT.
-- Special teams needs to get cleaned up, and quick. Even head coach Mike McCarthy couldn't avoid calling that unit's play "poor." Among the gaffes: A long return on the opening kickoff, a near blocked punt, a fumbled kick return (although recovered), a field goal doinked off the upright and eight penalties. Oof.
-- Rodgers isn't worried about developing any further game-action rapport with his wide receivers in the wake of Jordy Nelson's injury as he wasn't even in uniform for this one. Rodgers threw only five passes last week and 24 overall in the preseason. Guessing that number won't change next week, either. Bring on the regular season.
4 things we still don't know
-- How good -- or bad -- this defense is. Philadelphia's first-team offense went against Green Bay's first-team defense three times, resulting in three Eagles touchdowns. However, the Eagles operate a fast-paced offense, something Green Bay likely didn't really gameplan for, this being the preseason. So maybe we shouldn't worry too much about this being a true test. On the plus side, Philly rushed for only a 3.6-yard average in the first half and 3.3 yards overall.
-- One of the big questions this past week was who will pick up the slack with Nelson out. The final stats might get people excited, but the Eagles were basically using special teams players in the secondary in the second half. When Philadelphia had its first team in in the first half, the Packers' leading receiver was a running back. Otherwise, Myles White had two catches for 27 yards, Ty Montgomery finally showed his big-play ability with a 52-yard catch-and-run, Jeff Janis had one reception for 25 yards and the tight ends (Andrew Quarless and Richard Rodgers) each had one catch. Hardly awe-inspiring.
-- Just who is the No. 2 quarterback? Scott Tolzien, who was cleared from his concussion but didn't play, has played well this preseason. Given a chance to play the majority of the game against Philadelphia, Hundley stepped up his performance (see above).
-- Will either of Green Bay's top-two picks -- Damarious Randall or Quinten Rollins -- provide anything near to what departed cornerbacks Davon House and Tramon Williams once did? Neither made an impact in this game. Green Bay needs some consistency out of at least one of these rookies.
3 key stats
-- Despite playing the entire game without starting offensive linemen David Bakhtiari, T.J. Lang and Josh Sitton -- plus losing Bryan Bulaga early on to an ankle injury -- the Packers fended off Philadelphia's pass rush and allowed just one sack. Green Bay quarterbacks were barely pressured all night. Also, the Packers ran several successful screen passes, another testament to a good day by the backup linemen.
-- Green Bay used mostly first-teamers on defense in the first half and allowed 39 points, including 25 in the first quarter (could have been a bit worse, but Philadelphia failed on a pair of two-point tries and an extra-point attempt). Sam Bradford and Mark Sanchez completed 23 of 29 passes (Bradford was perfect in his 10 throws) and the Eagles had 325 yards in the first two quarters. Thank goodness for backups, as Green Bay held Philly off the scoreboard in the second half.
-- One week after committing nine penalties, Green Bay was flagged 15 times (for 128 yards). The refs had a busy night, as Philadelphia was called for 11 penalties.
2 top performances
-- Only one running back did well and it wasn't who you might expect. Raijon Neal carried four times for 23 yards (5.8 average) and caught five passes for 61 yards, including a 36-yard touchdown. He showed a nice burst when he had some open field.
-- Myles White finished with some nice stats (9 catches, 89 yards) and a couple of good grabs, but we'll put Hundley in this crowd. He didn't get down on himself after the interception and rebounded to have a decent game.
1 big moment
-- From an uh-oh standpoint, it was Cobb's injury. It happened early and who knows if it affected the psyche of Packers players. I'm sure it did with the fans. (If you want a turning point in the game, the interception for a touchdown by Walter Thurmond made it 18-0 and pretty much cemented who would win.)
Next: Green Bay finishes off the preseason against the New Orleans Saints on Thursday, Sept. 3 at Lambeau Field.