What can Sooners gain from next week's Red River Rivalry?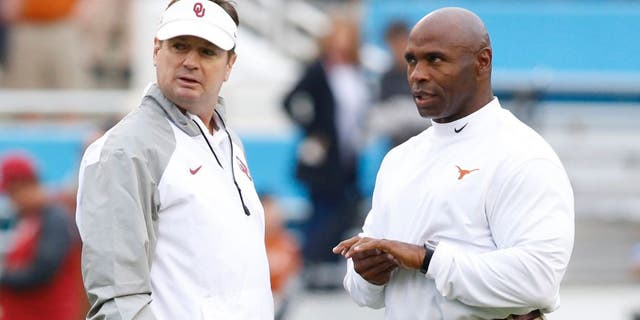 NEWYou can now listen to Fox News articles!
NORMAN, Okla. - Texas went scoreless for the better part of three hours Saturday at TCU and has been something close to hapless for the better part of two seasons.
Saturday, the Longhorns had a player Tweeting at halftime and had someone from the Texas Rangers tweeting that coach Charlie Strong needed to be fired.
It's equal parts circus and panic, a team coming undone and a coach who seems to have lost his way. Texas lost 50-7 to TCU and the Longhorns will head to Dallas next week 1-4 – its worst start in more than 60 years.
Meanwhile, about three hours, by car, to the north, but about a million miles away in reality, Oklahoma got five turnovers, passed for 320 yards and stayed unbeaten after a 44-24 victory over West Virginia at OU's Memorial Stadium.
Which leads us to this: Oklahoma and Texas in the Cotton Bowl next Saturday and it feels as though the teams are trending in opposite directions. Same as last year. And the year before. So the story repeats itself once more from the Oklahoma perspective - there's so much room for slippage and so little to gain.
Already this season, OU gets full credit for a pair of wins over ranked teams - West Virginia and Tennesee, a road win against the SEC and an unbeaten 4-0 record.
But what's to be achieved in Dallas in a spot where there is so much room for slippage?
Twice in the past two years Oklahoma has taken to the Cotton Bowl turf as a favorite against underwhelming Texas and both times the Sooners have been sluggish and unimpressive, even losing in 2013 despite being a two-touchdown favorite.
"I know the whole history," coach Bob Stoops said curtly. "Those things will all be brought up. I don't like to continue to harp on it. We're going to worry about us getting better."
But how do you not at least take some interest in the most-recent season of American Horror Story: Texas? There are no statements for the Sooners to make. There are no mountains to be scaled. This isn't the SEC or a a chance to make a statement, either.
"We played our first conference game and won," Oklahoma coach Bob Stoops said. "We don't worry about statements. You start finding out more with your conference play."
The only thing to be gained for Oklahoma is maintaining the status quo.
"We know they are moving a little slow," Oklahoma linebacker Eric Striker said of Texas. "But we also know they are ready for us."
Similar to last season. Texas was 2-3 last year and OU won 31-26. In 2013, Texas was 3-2 going into the Oklahoma game and won 36-20.
Texas is a combined 6-9 the past three seasons before playing OU. The Sooners' record in that same span is 13-1.
Used to be, Oklahoma could use the Texas week to establish itself or the conference or some combination of both. Texas hasn't done its part.
Saturday against West Virginia, the Sooners responded appropriately when West Virginia scored the first 10 points of the second half, cutting into OU's 24-7 lead. And in the last minute of the third quarter, West Virginia was back within three points. The Sooners scored the last 17 points of the game and finished off previously unbeaten West Virginia.
"We know their record doesn't mean anything when they play us," Oklahoma center Ty Darlington said. "It was similar two seasons ago. We walked in knowing that we were much better than a below-average Texas team and they whipped us."
It will be the same this time, too.
Oklahoma re-established Baker Mayfield as its offensive identity Saturday against West Virginia. He threw for 320 yards and three touchdowns. Striker and the Oklahoma defense rallied after allowing too many points, yards and mistakes against Tulsa. West Virginia threw three interceptions and ran for only 3.6 yards per play. Quarterback Skyler Howard was sacked seven times.
Now, expectations will be on Oklahoma to do the same to Texas. Just like the previous two seasons.
"Maybe there's not the reasons to play well or the perks of winning, but you don't need that when you play Texas in the Cotton Bowl," Darlington said.
He's right, but perhaps this Oklahoma team needs something like that – a chip on the shoulder pad, a reason to hold a grudge.
"It's a rivalry game," Striker said. "You have to figure they are going to play their best game against us."
Wonder if Oklahoma will offer up its best game?
Follow Andrew Gilman on Twitter: @andrewgilmanOK
MORE FROM FOX SPORTS SOUTHWEST:
- PHOTOS: Cowboys Cheerleaders Auditions
- Ranking NFL quarterback salaries
- Highest paid player on every NFL team
- College football's biggest video boards