What a relief: A's new-look bullpen coming together for 2016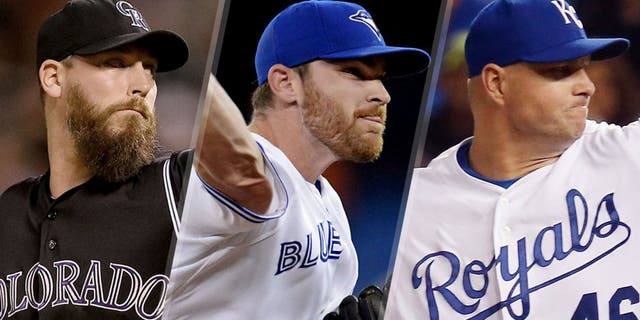 The Oakland Athletics set out to fix their bullpen this offseason -- and they've done just that. The A's 'relief' corps didn't provide very much of it in 2015, as their late-inning ineffectiveness was a big factor in their 68-94 record and last place finish in the AL West.
The 2015 A's were just 19-35 in one-run contests, and their combined staff ERA was 4.14 -- good for 11th in the American League. Clearly, the A's entered the offseason with plenty of room for improvement…and so far, they've worked hard at revamping the entire makeup of the 'pen.
A rotator cuff issue kept closer Sean Doolittle out of action for nearly the first two months of the season, changing the makeup of the bullpen entirely. Shortly after making his season debut in late May, a shoulder strain cropped up and limited him to just 12 appearances over the season's final few months. Assuming he comes back without further setbacks in 2016, he'll return to a bigger role in the back-end of the bullpen once again. But as for his supporting cast, there have been a lot of changes already.
In recent weeks, the A's traded away Jesse Chavez, Drew Pomeranz and Evan Scribner, cut ties with Fernando Abad and Edward Mujica and let Dan Otero and switch-pitcher Pat Venditte depart for other clubs on waiver claims (the Philadelphia Phillies and Toronto Blue Jays, respectively).
In their place, Oakland brought in several new faces. Among them:
RHP Ryan Madson (agreed to a three-year, $22 million free agent contract)
RHP Liam Hendriks (obtained in the Chavez trade from the Toronto Blue Jays)
RHP John Axford (agreed to a two-year, $10 million free agent contract)
LHP Marc Rzepczycnski (acquired from the San Diego Padres in the Pomeranz trade)
Barring any more significant bullpen moves, the A's appear set to run out a relief unit featuring Doolittle, Rzepczynski, Doolittle and spot starter/reliever Felix Doubront from the left side and Madson, Hendriks, Axford, Fernando Rodriguez and Ryan Dull from the right side.
Stockpiling hard-throwing right-handers such as they've done with the recent acquisitions of Madson, Hendriks and Axford should provide some serious firepower for manager Bob Melvin, and given the prior closing experience of Madson and Axford the A's could very well do some mixing-and-matching in the late innings if Doolittle needs a break from closing duties or assumes a different role entirely.
Since this is the A's, they've naturally been hard at work re-shaping the makeup of the position player side of the roster, too. Earlier this week infielder Brett Lawrie was dealt to the Chicago White Sox for a pair of minor-league pitchers (one of them a longtime friend/teammate of Josh Reddick). Oakland's front office, led by GM David Forst and VP of Baseball Operations Billy Beane knew it had to do something to improve the club's chances in 2016. The AL West is a very strong division thanks to the emergence of the Houston Astros, the Seattle Mariners' expected improvement under new GM Jerry Dipoto, the Texas Rangers' reigning division title and the Los Angeles Angels' perennial competitiveness.
Whether this new-look A's bullpen will help completely turn the page next year remains to be seen, but one intriguing aspect of its creation concerns the A's starting staff. While they're trying to find another established starter for the middle of the rotation, the A's are expected to run with some combination of Sonny Gray, Chris Bassitt, Jesse Hahn, newcomer Rich Hill and Kendall Graveman, with other options waiting in the wings (such as lefty Sean Nolin and prospect Sean Manaea. This stable of new relievers could presumably lessen the weight put upon the rotation, especially if everyone pitches up to their respective ability levels. If that happens, the A's could definitely receive the type of boost in the late innings that they were completely unable to find in 2015.
Of course, this is all speculative at this point. It's still December, and there is still plenty of time for the roster to change even more…but so far, the A's are definitely making good on their plan to head into 2016 with a drastically different pitching staff.