What a difference a week makes: DW breaks down The Glen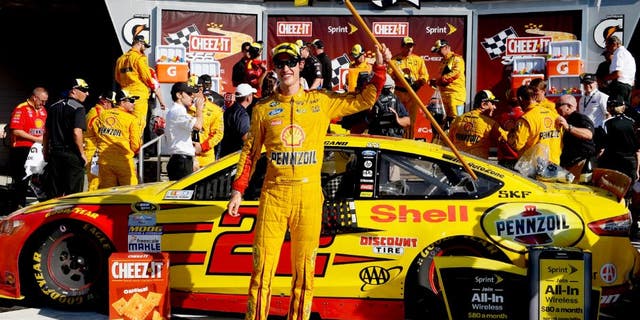 Congratulations to Joey Logano and car owner Roger Penske for an unbelievable weekend at Watkins Glen. Joey won the XFINITY Series race on Saturday and then turned right around and won the NASCAR Sprint Cup race on Sunday. That is quite an accomplishment for anyone to sweep a weekend, but especially for Joey. The reason I say that is he's never won on a road course race and last weekend he won two of them back-to-back.
That was Joey's second win of the season, plus it marks his 13th top five and 16th top-10 finish in only 22 races this season. It's that kind of consistency that wins championships. I think Joey is showing everyone in the garage area that he is a serious contender for the 2015 NASCAR Sprint Cup title.
You heard me say this over and over, but racing is a humbling sport. One week you are at the top of the heap and then the next you are at the bottom. Well in Joey's case it was just the opposite. Just think of the irony of last week at Pocono. Joey runs out of gas there at the end, loses the lead and the race. Then one week later, it's Kevin Harvick that runs out of gas and Joey passes him to win the race. It's just so ironic to me but that's how racing is.
If I'm a young driver like Kyle Larson, Austin Dillion, Chase Elliott, Erik Jones or any of these kids coming up, I'd be looking at Joey to be the guy I would want to talk to for advice. The kid is only 24 years old and he's already experienced it all in our sport. Remember, he came into our sport with all this hype and the pressure of replacing Tony Stewart at Joe Gibbs Racing.
Unfortunately he never was able to live up to the hype, and his success at Gibbs was very limited at best. Then there came the uncertainty of his future when Matt Kenseth decided he wanted to leave Roush Fenway Racing and Joey basically became odd-driver out at Gibbs.
Then Roger Penske, with a lot of urging from Brad Keselowski, gave Joey a shot in the No. 22 car. Joey and Brad both bonded as teammates and it was instant success at Team Penske. Now Joey is living up to all that potential folks talked about years ago, and is a legitimate threat to be to join his teammate Brad as a champion in the Sprint Cup series.
I also want to give a tip of the hat to Kyle Busch who finished second in the race Sunday, plus moved into 30th spot in the points. So right now Kyle is in the Chase, but it's important to remember that he has to stay there. We still have a lot of racing to go with four more races before the Chase starts, so Kyle can't afford any miscue's these next four weekends. With those four wins and the consistency he has shown, I don't think it will be an issue, but like I always remind you, nothing is a given in NASCAR. The simply amazing thing to remember is that Kyle has done it in half the races of everyone else. Kyle has only been able to run 11 races since coming back from his February XFINITY Series wreck, while everyone else has raced 22 times so far.
I felt bad for Kevin Harvick who ran out of gas there at the end, but hey, he's leading the points, he's got two wins, he's locked into the Chase and he was just racing for the three extra bonus points Sunday that he would receive at the start of the Chase. So yes, he lost the race, but in the big picture it really was worth the gamble. Don't forget, he still came home third and believe it or not, in 22 races this year, that was his 15th top-five finish, by far the most of any driver this year.
Matt Kenseth finished fourth which is also ironic because of all the years in NASCAR, Sunday marked Matt's first-ever top-five finish on a road course. Teammate Carl Edwards finished eighth, giving Joe Gibbs Racing top-10 finishes for three of its four cars. Unfortunately their other teammate Denny Hamlin had a problem with his hood pins breaking on a restart, and that problem regulated him back to a 27th-place finish. It was also a good day for Clint Bowyer, who had a great finish in sixth, so he's been showing a lot more consistency too.
I was surprised that Hendrick Motorsports didn't run any better than they did. Jimmie Johnson was able to work his way back up there and finish 10th. Dale Earnhardt Jr. was 11th, but their other two teammates Jeff Gordon and Kasey Kahne finished 41st and 42nd.
So, only four races to go and it starts Sunday when we return to Michigan for the second time this year. It's always been known as a fuel mileage race but the reality in today's NASCAR is that every race is a fuel mileage race. That's just a given. Today these teams start thinking about fuel from the drop of the green flag. Sure, sometimes the cautions fall at the right time to take the fuel mileage question off the table, but in all honesty you are always thinking about the "what if" of fuel mileage.