Wenger thinks 'explosive' Sanchez can 'provoke chaos' this season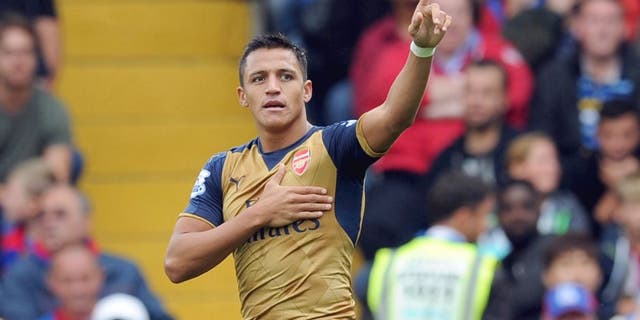 Arsene Wenger says "explosive" forward Alexis Sanchez can "provoke chaos" this season - and believes he can help Arsenal fight for the title.
Sanchez has thrown himself straight back into action after taking his summer holiday following his role in Chile winning the Copa America.
Sanchez saw his header deflected in for an own goal in Arsenal's hard-fought 2-1 win at Crystal Palace last weekend, and he is expected to be unleashed against Liverpool on Monday night.
Arsenal go into the game as favourites to see off Liverpool, despite the Reds' 100% start to the season.
And Wenger believes there is more to come from the 26-year-old former Barcelona forward, who was signed after the 2014 World Cup in a £32million deal.
"Alexis has that desire to go forward and provoke chaos in the defenses because he has a go at you, to run at people and that creates danger," the Arsenal boss said.
"He is already better than when he arrived.
"In his final finishing there is room for improvement, but in his final ball he is already much better, his vision is quite good and incisive."
Wenger added: "What Sanchez has is in the first two yards is that he is lightning quick. He has that explosive attitude linked with his spirit, which makes him even more spectacular."
Sanchez had been on Liverpool's radar last year before he signed with the Gunners.
"At the start when I saw (Luis) Suarez went to Barcelona I though that is the obvious deal, one player one way and the other player goes the other way, so I had not much hope and I was quite surprised that at the time it was possible," Wenger said.
Arsenal have added goalkeeper Petr Cech from Chelsea but are yet to strengthen the outfield squad.
Despite their Premier League rivals all spending big, the Frenchman insists he is happy with his squad.
He said: "It is not just the consequence of the money they spend in how successful you are.
"That is why you have to keep your nerve and not buy just because the others buy - but buy because you have found a player that can really give you a plus.
"I believe this squad is ready to fight for the title and has a chance to do it given that we are continuing to develop as a team, that is the first thing.
"We are not against taking a gamble, but what you want is to take a gamble in a market where the opportunity is there."