Welker hauls in three receptions in 'OK' season debut with Rams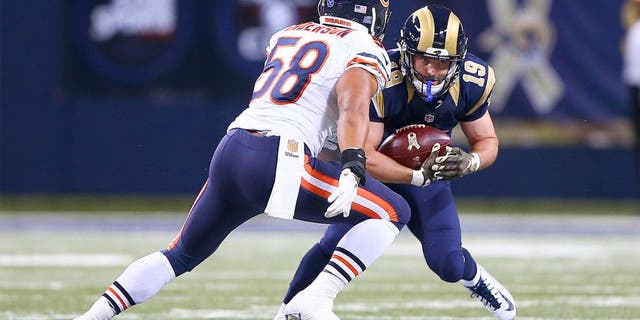 Wes Welker had three catches for 32 yards in his debut with the Rams. Billy Hurst USA TODAY Sports
Wes Welker was among the few positives in another listless offensive performance by the St. Louis Rams in their 37-13 home loss to the Chicago Bears on Sunday.
Making his season debut six days after signing with the Rams, Welker hauled in three receptions - the most among St. Louis wideouts - for 32 yards while playing primarily in third-down situations.
"I'd say it was OK," assessed Welker, who was critical of himself for not being beyond the third-down marker on his first catch of the game. "It's a tough situation but at the same time you've still got to make those plays for the team."
The 34-year-old Welker was brought in by the Rams on Monday after wideout Stedman Bailey was suspended four games by the NFL for violating the league's policy on substance abuse. He said the quick turnaround to playing with a new team was not that difficult.
"Not really," Welker said. "I think when you've been doing it this long and understand everything, nothing's changed. It's still football."
Welker showed the great hands that have been a trademark of his career, extending himself to snag a six-yard toss from quarterback Nick Foles with a fingertip catch. He added third-quarter receptions of 12 and 14 yards, but St. Louis managed only two field goals after scoring on its opening possession.
"I think it was a lot of mental mistakes on our part. The penalties really hurt us," Welker said. "We'd have positive plays and then have a penalty bring it back and so we have to clean all that stuff up."