Welcome back, baseball! 10 biggest storylines as we await spring training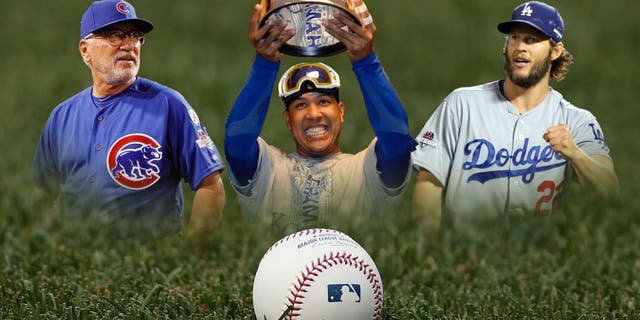 Now that the Super Bowl is over, Americans can properly realign their sports priorities.
More to the point, spring training is 11 days away.
Here are the key storylines in Major League Baseball, as we wait for pitchers and catchers to report.
1. The Cubs are supposed to win the World Series.
It has to happen eventually, right?
In all seriousness, the Cubs haven't entered a season with expectations of this magnitude since 2004, when the Bartman autumn and Greg Maddux's return had the faithful believing The Year had arrived. (It hadn't, same as every year since 1908.)
Now the Cubs are coming off a 97-win season, which tied the 2008 edition for the team's most victories over the past 70 years. Theo Epstein, with demonstrated curse-breaking ability, made the sort of additions -- Jason Heyward, Ben Zobrist, John Lackey -- that convey his belief in the team's championship potential.
The fact that the Cubs signed Heyward and Lackey away from the arch-rival Cardinals only adds intensity to what should be baseball's best rivalry in 2016.
2. Did the Dodgers improve enough to win their first World Series since 1988?
Three undeniable facts:
● The Dodgers lost Zack Greinke, who led the majors last year with a 1.66 ERA, to the division-rival Diamondbacks and didn't replace him with a comparable starter.
● The Dodgers scored the third-fewest runs in the National League after the All-Star break, yet they did not add a proven major-league position player from outside the organization.
● The outfield depth chart is no less cluttered than it was 12 months ago -- and is even more confusing in some ways, given the uncertainty surrounding what the Dodgers can expect from Yasiel Puig.
Last year, the Dodgers had the most expensive roster in North American professional sports history. This year, they have a lower payroll -- and more questions.
3. Are David Price and Craig Kimbrel truly the difference between fifth place and first for the Red Sox?
Price and Kimbrel weren't the only additions Dave Dombrowski made in his first offseason running the Red Sox. But they were the big ones, reflecting a confidence that the existing lineup is good enough to win -- as long as Mookie Betts, Xander Bogaerts and Jackie Bradley Jr. replicate their second-half production while Hanley Ramirez and Pablo Sandoval bounce back.
Ramirez's adjustment to first base will be a significant spring story. Publicly, at least, team officials have voiced optimism about his future in Boston. But Ramirez's health and attitude have been mercurial enough in recent years that skepticism is warranted. Travis Shaw, whose 13 home runs after the All-Star break ranked second on the team, is a viable alternative to Ramirez at first base. Stay tuned.
And one more thing: David Ortiz will retire after this season.
4. The Yankees, newly austere, are trying to win with an aging core.
Alex Rodriguez was one of the most compelling -- and, oddly, most charming -- stories in baseball last year, hitting 33 home runs (his most since 2008) without a single stay on the disabled list.
Congratulations, Alex. Can you do it again?
Now 40 years old, A-Rod is as important to the Yankees as at any point since he helped them win the World Series in 2009. After the Yankees avoided the free-agent market all winter, there's no superstar in his prime to anchor the lineup. Mark Teixeira, 35, had an excellent 2015 season but missed the final month with a leg fracture. Jacoby Ellsbury, 32, hasn't lived up to his $153 million contract.
Starlin Castro, who turns 26 in spring training, could reemerge as a star if the New York atmosphere brings forth the promise he showed at times in Chicago.
5. The Royals could be on the verge of a dynasty.
The Royals are one swing away from having won back-to-back World Series titles, but the beauty of winning in 2015 is that they no longer need to lament the previous year's excruciating defeat.
Besides, this year they can become the first team since the Yankees in 2000 to win consecutive championships. And who in the American League can stop Kansas City from celebrating a third straight pennant?
The Royals' rotation isn't great ... but it wasn't last year, either. The bullpen is elite, and the position-player core is back, thanks to Alex Gordon's decision to re-sign. The Royals are the favorites until someone proves otherwise; the Astros and Blue Jays -- whom Kansas City defeated last year en route to the World Series -- can't match the Royals' balance and depth.
6. New -- possibly contentious -- labor talks are set to commence.
During spring training, officials from Major League Baseball and the MLB Players Association will begin negotiating the sport's next collective bargaining agreement.
On the surface, there's every reason to believe the sides will preserve the labor peace that has survived for over two decades. Industry revenues reached nearly $9.5 billion in 2015, according to Maury Brown of Forbes. Clubs have guaranteed players nearly $2.5 billion in free agency this winter alone, according to MLBTradeRumors.com.
Yet the MLBPA dislikes the qualifying offer system, which has depressed the value of several free agents in recent years. The union also is frustrated by the overall inefficiency of the free-agent market, as evidenced by the large number of unsigned players so close to spring training.
Professional football, basketball and soccer have gained in popularity among U.S. fans since baseball's last work stoppage in 1994-1995. Surely, our national pastime won't risk damaging its future popularity when the overall economic picture is so healthy.
Right?
7. Do the teams that ended substantial playoff droughts in 2015 -- the Blue Jays, Astros, and Mets -- have staying power as contenders?
Among the three, the Blue Jays face the greatest urgency to win in 2016, with lineup cornerstones Jose Bautista and Edwin Encarnacion eligible for free agency after the season. For now, the Jays' foremost concern is replacing the reliable innings they lost when Price left for Boston.
The Astros, who came within six outs of eliminating the Royals in the ALDS last October, quietly led the American League with a 3.57 ERA in 2015. They've added Doug Fister and Ken Giles to their pitching staff but lost Scott Kazmir via free agency and have acknowledged Lance McCullers Jr. will be on an innings limit this year.
The better news: Carlos Correa, now beginning his first full season in the majors, is poised to win an MVP Award soon. And he's 21.
Meanwhile, Mets fans ought to be happier than at any point in a generation. They're the defending National League champions, they re-signed Yoenis Cespedes (finally), Matt Harvey is not on an innings limit in 2016 (we think), and their overwhelming rotation will improve with Zack Wheeler's return.
So, let's not hear any complaints from Queens this year -- at least not before May.
8. Can Dusty Baker turn the Nationals into a harmonious winner?
However awkward the Nationals' dual courtship of Baker and Bud Black may have been -- and let's be clear: it was awkward -- the team hired a manager renowned for his ease with people and ability to heal fractured clubhouses.
Baker, 66, is a respected baseball diplomat, having forged a detente between Barry Bonds and Jeff Kent in San Francisco and established the terms of Sammy Sosa's boom box usage in the Cubs' clubhouse. But he'll need to summon all of his political skill this summer in Washington, D.C.
A brief list of concerns: The Nationals were one of the biggest disappointments in baseball last year, Jonathan Papelbon (who's still on the team) was suspended in September for choking Bryce Harper in the dugout, Jayson Werth was dissatisfied with former manager Matt Williams last year as his production declined, and Stephen Strasburg is entering his final season before free agency.
Oh, and Harper has yet to sign a long-term contract with the Nationals -- and doesn't appear close to doing so.
9. Giancarlo Stanton, Albert Pujols and Michael Brantley are among the key hitters returning from injuries this spring.
Normally, I have little interest in the drumbeat of updates on players "progressing well in their rehabilitation" during February and March. But this spring, the postseason hopes of several teams hinge on precisely those types of stories.
Stanton did not play after June 26 last year because of a broken left hamate bone. Hand and wrist injuries often are difficult for hitters to overcome, but if Stanton has a healthy, productive season -- as the team expects he will -- the Marlins could contend in 2016.
Pujols and Brantley, meanwhile, are less certain for Opening Day after offseason surgeries, and the Angels and Indians, respectively, haven't added enough offense this winter to withstand long absences by either.
10. The Diamondbacks stunned the industry with sweeping offseason moves. Now can they beat the Dodgers and Giants?
Few -- if any -- experts predicted Zack Greinke would sign with the Diamondbacks. He did. Then, Arizona added Shelby Miller in a trade roundly criticized by rival executives because of the high price in prospects.
Did the Diamondbacks defy conventional wisdom? Of course. But now they have a rotation that allows them to compete with the Giants -- who added Johnny Cueto and Jeff Samardzija -- and Greinke's old team in L.A.
But even after all the splashy moves, the Diamondbacks must answer multiple questions about their everyday lineup in spring training. Can Jean Segura be the player he was with the Brewers in 2013? Is Yasmany Tomas ready to be an everyday outfielder? And how will manager Chip Hale distribute playing time at catcher, second base and third base?
One thing is certain: The Diamondbacks are poised to make the National League West race a lot more intriguing.