Weight won't return this season, might retire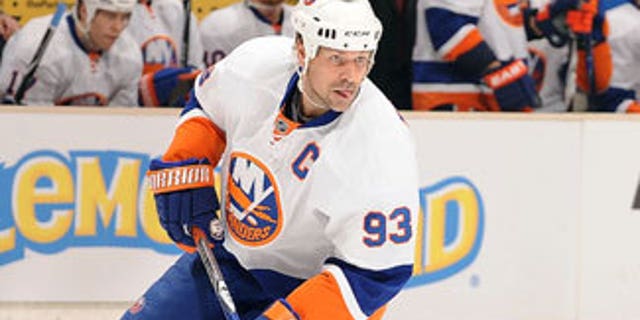 New York Islanders captain Doug Weight, who has been dealing with chronic back spasms since November, informed the local media on Tuesday that he will sit out the remainder of the season.
The 40-year-old center remains uncertain if he'll retire, however.
Weight, a 19-season veteran and the fifth-oldest player in the League, has struggled to remain in the lineup in recent seasons due to nagging injuries. Back spasms have kept him out of the lineup for all but 18 games in 2010-11 -- he hasn't played since Nov. 17 against Tampa Bay and was placed on injured reserve.
He previously underwent season-ending shoulder surgery on March 18, 2010. Weight, who has appeared in 1,238 NHL games since entering the League with the New York Rangers in 1991, had 2 goals and 9 points with the Islanders this season.
According to Katie Strang of Newsday, Weight spent months trying to rehab his injury that caused nerve damage in his back and muscle atrophy in his left leg. But that failed and the team's medical staff advised him to shut it down the remaining six games of the season. Strang also reported that Weight will take time to think about his future, but that he is leaning toward retirement.
He also played for the Rangers, Oilers Blues, Hurricanes and Ducks before signing a free-agent contract with the Islanders in July 2008. Weight's biggest role on the club involved the mentoring of many of the team's young players, most notably John Tavares, who was the first pick at the 2009 NHL Entry Draft.
"It's been great having him here because he's done a lot for me," Tavares told NHL.com. "He keeps the room loose, but also knows when to say things at the right time. He's such a good hockey player too; sometimes I get a little bit amazed watching him out there handle the puck the way he does. I always know I have to kick myself in the butt when I realize I'm out there with him."
Weight has produced 278 goals, 755 assists and 1,033 points in his career. He won a Stanley Cup with the Hurricanes in 2006, posting 16 points in 23 playoff games that season.