Weekend Blitz: NFL Week 6 picks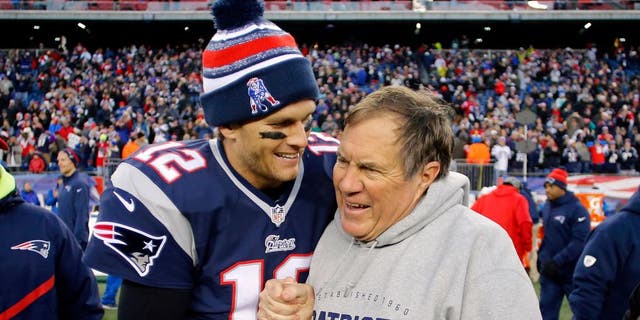 NEWYou can now listen to Fox News articles!
Welcome to another edition of "Weekend Blitz," a column that will appear on FOXSports.com each Friday during the football season. Consider this one of your must-read features as you wrap up the week and head into a Saturday and Sunday filled with pigskin. We'll be giving out NFL picks, possibly some college football picks and plug some of the best content from the world of sports and pop culture.
Please come back every Friday, check FOXSports.com/Buzzer or follow me, @JimmyTraina, on Twitter.
Our picks have been the definition of mediocre. Thanks to the Raiders blowing a late cover, we finished last week at .500 once again. The 2-2-1 brings the season total to 11-10-1. Going with a season-high seven picks this week. Love them all, too. This is the week we make our move.
THE PICKS
PATRIOTS -9.5 AT COLTS: This will get ugly. If you don't think Bill Belichick is going to make the Colts pay for Deflategate, I have a bridge to sell you. Even if you take out the Deflategate angle, Indianapolis isn't a good team. The Patriots are the best team in football. This has 48-14 written all over it.
BRONCOS -4 AT BROWNS: Despite Cleveland shredding up Baltimore last week, we still don't believe in Josh McCown. We especially don't believe in Josh McCown against the NFL's best defense when it comes to yards allowed per game (278) and second-best defense in points allowed per game (15.8). Yes, Peyton Manning isn't the same Peyton Manning, but Cleveland comes in allowing 149.4 rushing yards per game. Gary Kubiak's commitment to the run will pay off in this one. Obviously, we wish the line was 3 instead of 4, but we don't expect the Browns to put up more than 13 points in this one.
BENGALS -3 AT BILLS: Cincinnati will lose sooner or later, but it won't be against a Buffalo team that is struggling and unhealthy right now. Quarterback Tyrod Taylor and running back LeSean McCoy returned to practice late this week, but neither is 100 percent. Buffalo can overcome their undisciplined play against bad teams. The Bengals are far from that. The line here should actually be higher, which makes me worried since Vegas always knows, but we can't pass up only laying a field goal.
VIKINGS -4 VS. CHIEFS: We've been on the Vikings all year, so we're not going to pass them up now when Kansas City comes in without Jamaal Charles. Yes, Charles' backup, Knile Davis, is a good back who will play well the rest of the season, but the Chiefs' weak passing game will make this a long day for their offense on the road against a very strong Minnesota defense that's coming off a bye week.
ARIZONA -3 AT PITTSBURGH: Mike Vick won't have a chance against the Cardinals defense. If you take out Vick's 72-yard touchdown pass to Markus Wheaton last week against San Diego, these were his numbers: 12-26 for 131 yards. That won't get the job done this week. Yes, Le'Veon Bell can win a game by himself, but that happens against a bad team like San Diego, not one of the league's best teams. Also, in case you haven't noticed, Cardinals running back Chris Johnson has looked as good as he did in in his early days in Tennessee.
TEXANS PK AT JAGS: Houston has burned us a few times this year, but we'll play with fire once again. The Texans come in on extra rest after playing on Thursday night last week. Hopefully coach Bill O'Brien used that time to convince himself that it's time to stop playing musical quarterbacks. Brian Hoyer is in for Ryan Mallett and we think that makes Houston a better team. This will also be the perfect game for Arian Foster to break out after coming back from injury in Week 4. The rust should be all off by now. Oh, and the Jags shouldn't be a PK against anyone.
PANTHERS +7 AT SEAHAWKS: It's always risky to take a team going into Seattle, but something is off with this Seahawks team. Even with Thomas Rawls filling in nicely for Marshawn Lynch at RB, the offense hasn't looked in sync all season. We expect Seattle to squeak out a win, but this will be a close contest from start to finish.
OTHER ITEMS
* You can bet on how many times "Deflategate" will be mentioned on NBC's telecast of Patriots-Colts Sunday night.
* Here are what the lines would look like right now on some potential College Football playoff games.
* Grantland's Charles P. Pierce says it's time to stop being stupid about sports gambling. Amen.

* Celebrate the 15th anniversary of "Curb Your Enthusiasm" with this piece from Rolling Stone.
* This is a great video of Tom Brady going through some Internet searches about himself.