Week 5 Quick Reads: Bengals (finally) come through on big stage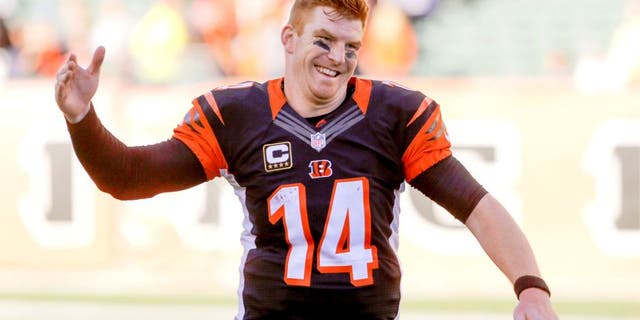 NEWYou can now listen to Fox News articles!
Maybe the 2015 Cincinnati Bengals are different after all.
We won't know for sure unless this team qualifies for the playoffs and ends a four-year streak of one-and-done appearances with the franchise's first postseason win in a quarter-century. But a wild 27-24 overtime victory over Seattle should give Cincinnati fans hope that these aren't the same old Bengals.
Bengals teams in recent seasons have usually come up small when appearing on the big stage against quality opposition. It appeared history was repeating itself once again when the Seahawks opened a 17-point lead in the third quarter.
But thanks to quarterback Andy Dalton -- the poster child of Cincinnati's past inconsistency -- and a swarming defense, the Bengals mounted a furious comeback to knock off the NFC's Super Bowl representative from the past two seasons.
The significance of that wasn't lost on Dalton, who completed 30 of 44 passes for 331 yards with two touchdowns and one interception against Seattle's vaunted "Legion of Boom" secondary.
"We faced a really good team that has played in the Super Bowl and won a Super Bowl," Dalton told FOX Sports sideline reporter Erin Andrews in a post-game interview. "They've been where we want to go."
The Bengals are now off to a 5-0 start for the first time since 1988. That also marks the last season Cincinnati reached the Super Bowl.
The Bengals have the talent to get there again. Based upon what transpired Sunday, the maturity and ability to handle the pressure that comes with postseason football may finally be there as well.
Let's see what else down around the NFL on Sunday.
Chicago 18, Kansas City 17: Beware of the Bears! The NFL's worst team through the season's first three weeks has ripped off two straight wins behind quarterback Jay Cutler (!!!) and a quickly improving defense. The task became easier Sunday when the Chiefs lost star running back Jamaal Charles in the third quarter to what is believed a torn anterior cruciate ligament. The reeling Chiefs (1-4) generated only 52 yards and two first downs in their final five possessions sans Charles.
Buffalo 14, Tennessee 13: What was a 10-0 lead and strong defensive performance by the Titans unraveled because of the inability to contain Bills quarterback Tyrod Taylor. On the series after his 22-yard touchdown run, Taylor burnt Tennessee again by converting a third-and-18 from deep inside his own territory with a 24-yard scamper along with drawing a 15-yard penalty for a Titans horse-collar tackle. Taylor capped the drive with a two-yard touchdown pass to wide receiver Chris Hogan that proved the game-winning score. Taylor finished with 76 rushing yards -- the highest total for a quarterback in Bills history -- while carrying an offense sorely missing its top running backs in the injured LeSean McCoy and Karlos Williams.
Green Bay 24, St. Louis 10: Packers quarterback Aaron Rodgers didn't just have his string of passing attempts without an interception at Lambeau Field snapped at 587. He committed three turnovers overall, marking Rodgers' highest total since 2009. It ultimately didn't matter because the opposing quarterback made even more costly mistakes as Nick Foles threw four interceptions for the Rams. Greg Zuerlein also missed three field goals of 50-plus yards as St. Louis (2-3) squandered a second straight beastly rushing performance by rookie Todd Gurley (30 carries for 159 yards).
Philadelphia 39, New Orleans 17: Saints head coach Sean Payton and defensive coordinator Rob Ryan became engaged in an animated sideline discussion as the moribund Eagles (2-3) were rolling to 519 yards of offense. There's plenty of blame to spread around in New Orleans, though. The Saints (1-4) couldn't block Eagles end Fletcher Cox, who sacked Drew Brees three times and forced two fumbles.
Tampa Bay 38, Jacksonville 31: The Bucs (2-3) already have matched last season's win total and ended an 11-game home losing streak thanks largely to the play of running back Doug Martin. He scored three touchdowns and rushed for 124 yards to continue his 2015 resurgence.
Atlanta 25, Washington 19 (overtime): Had the Falcons lost, the NFL's catch rules would be the biggest news coming out of this game as what appeared a go-ahead touchdown grab in the final minute by Atlanta running back Devonta Freeman was overruled because of "continuation" language. The focus instead will be on the Falcons being the league's biggest surprise at 5-0 after cornerback Robert Alford won the game in overtime with a pick-six off Washington quarterback Kirk Cousins.
Cleveland 33, Baltimore 30 (overtime): Time to give head coach Mike Pettine credit for inserting quarterback Josh McCown back into the starting lineup when healthy in Week 3 rather than sticking with Johnny Manziel. McCown butchered the Ravens' lousy secondary for 457 passing yards and two touchdowns as Cleveland (2-3) ended a seven-game losing streak in Baltimore. The Ravens (1-4) are on track for their first top 10 draft pick since 2008.
Arizona 42, Detroit 17: The shades of a winless 2008 continue in Detroit (0-5) as the Lions fell behind by 21 points in the first half after committing four turnovers. The fact Detroit's offense was forced to call a timeout just three plays into the game reflects just how out of sorts the unit has become under coordinator Joe Lombardi. Nobody looks worse than quarterback Matt Stafford, who was lifted midway through the third quarter for Dan Orlovsky after throwing his third interception. Detroit's defense suffered a triple whammy -- getting picked apart by Cardinals quarterback Carson Palmer (11 of 14 for 161 yards and three touchdowns), surrendering 163 combined rushing yards to Chris Johnson and Andre Ellington, and losing weak-side linebacker DeAndre Levy in the first quarter after he aggravated a hip injury that had kept him out the first four games. The Lions now have as many losses this season as in all of last season.
Denver 16, Oakland 10: Peyton Manning failed to lead Denver to an offensive touchdown but it didn't matter thanks to another stellar defensive performance. Chris Harris Jr. saved the day for the Broncos by intercepting a Derek Carr pass and returning it 74 yards for an interception that gave Denver a two-score lead with 6:53 remaining. While deserving of praise, Harris wasn't the most celebrated defensive back in this game. That honor belongs to Raiders safety Charles Woodson, who became the first player aged 39 or older since 1960 to register two interceptions in the same game. Especially sweet for Woodson was the fact his picks came off Broncos quarterback Peyton Manning. Woodson admitted before the game it was a goal of his to register his first career interception of Manning, a fellow member of the NFL's 1998 draft class.
New England 30, Dallas 6: A great job by the Cowboys' defense putting pressure on Patriots quarterback Tom Brady in the first half with five sacks was squandered by an offense that generated only 60 yards as New England took what proved an insurmountable 10-point lead. Brandon Weeden lost his 11th straight start, raising the possibility of a switch to the recently acquired Matt Cassel following next week's bye as Tony Romo continues to mend from a fractured clavicle. Running back Dion Lewis, who generated 93 yards of total offense and one touchdown, is the latest player who flopped elsewhere to find success in New England.