Week 4 injury roundup: Dolphins CB Brent Grimes injures right knee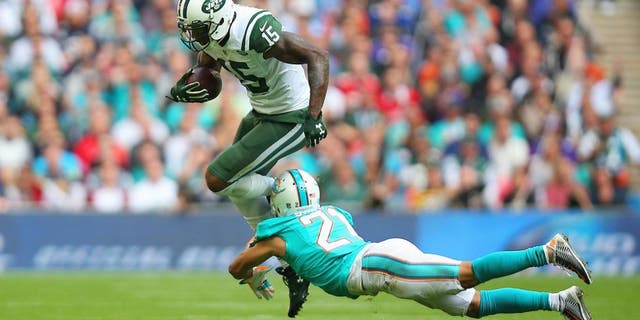 NEWYou can now listen to Fox News articles!
An injured right shoulder kept Colts quarterback Andrew Luck out of his first NFL game Sunday.
And the trip to London may prove costly for the New York Jets and Miami Dolphins, though at least they now have byes to heal up.
The Colts scratched Luck against Jacksonville on Sunday, deactivating him after the quarterback was limited at practice this week. That put Matt Hasselbeck into his first start since 2012, and the 40-year-old backup came out with a 16-13 win in overtime.
Playing at Wembley Stadium, Miami lost top cornerback Brent Grimes in the first quarter to a knee injury. Grimes came up limping after trying to tackle Jets wide receiver Brandon Marshall, who kept going for a 22-yard catch on third down. Grimes grimaced when he tried to run on the sideline and stayed out the rest of the game.
Dolphins backup linebacker Chris McCain also hurt a hip late at the end of the first quarter, and Miami outside linebacker Jelani Jenkins returned to the game after leaving with stinger symptoms after a hit to one of his shoulders.
The Jets lost strong safety Calvin Pryor in the fourth quarter of their 27-14 win after he apparently hurt his knee colliding with a receiver. Linebacker David Harris hurt a quadriceps muscle in the fourth quarter, and running back Bilal Powell hurt a groin muscle in the second quarter and didn't return. Jets rookie defensive lineman Leonard Williams also sprained an ankle late in the game.
In other injury news:
-- Rams starting inside linebacker Alec Ogletree was carted off the field with just over five minutes left in the third quarter with an injured ankle in Arizona.
-- The Chicago Bears got Jay Cutler back from an injured hamstring Sunday, but they lost center Will Montgomery on the opening possession with a broken leg.
-- Eagles quarterback Sam Bradford limped off the field in the third quarter after one of his offensive linemen appeared to roll over his lower right leg on a third-down incompletion. But he got his right ankle taped up and finished the game.
-- New York Giants left tackle Ereck Flowers aggravated an ankle injury on the opening drive but returned. Flowers was limited in practice during the week and questionable for the game. His injury forced the Giants to shift Justin Pugh from left guard to left tackle, while John Jerry entered the game to fill Pugh's spot until he returned.
-- Buffalo starting left tackle Cordy Glenn was escorted to the locker room after hurting his left ankle, but he returned and finished the game.
-- Falcons linebacker Justin Durant hurt his elbow, and he did not return with Atlanta routing Houston 48-21.
-- Colts cornerback Jalil Brown left in the first half against Jacksonville with an injured groin and didn't return.