Week 11 Cheat Sheet: Palmer, Dalton still trying to earn their stripes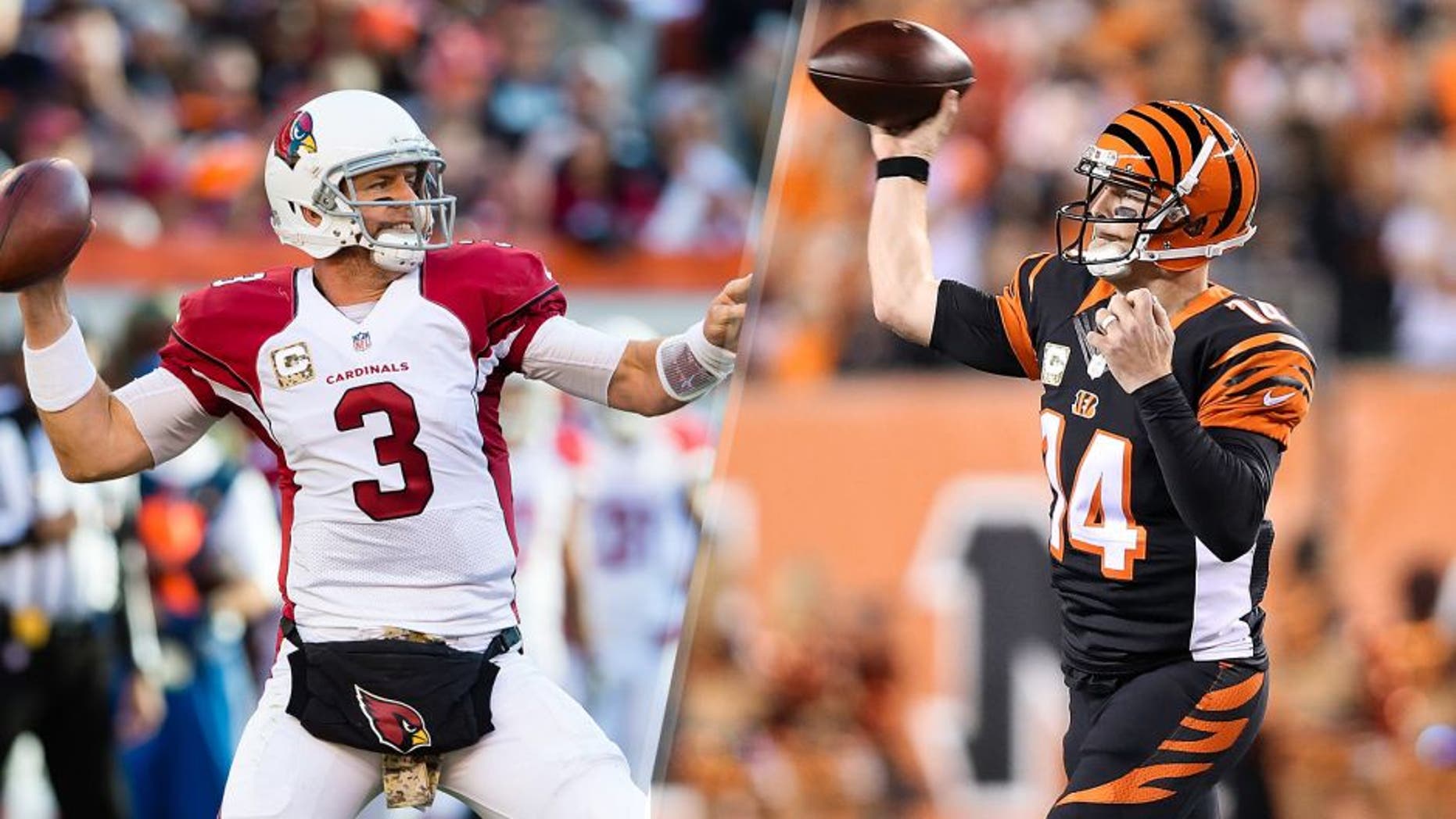 Carson Palmer was in the midst of the best games of his professional career, on a nationally televised primetime stage in a hostile road environment, and lighting up what was supposed to be a defense that'd had his number in recent years.
There he was, a quarterback who at 35 was silencing critics, proving that yes, he can win the big games. The Cardinals were up 22-7 at halftime in Seattle, and dominating on both sides of the ball. The NFC West power shift had never looked so evident.
And then it happened.
The kind of plays that fuel the critics' fire and the turnovers that show up on loop as footage that accompanies the talking head TV shows criticizing him on Monday mornings. Two plays. Flukes. A weird fumble off of his own foot that led to one score; a strip-sack fumble return for another that led to another.
Fourth quarter. Roof caving in. The Cardinals were suddenly down 29-25 and the Twitter birds were chirping. Loudly.
And what'd Palmer do?
He shut them up and he shut down the Seahawks, leading the Cardinals on long, consecutive touchdown drives, calmly and with precision. The Cardinals re-took the lead with a 10-play, 83-yard drive. Palmer completed 6 of 9 pass attempts for 75 yards and tossed a. On the following Cardinals possession, Palmer led an eight-play, 80-yard touchdown drive that gave Arizona a 10-point lead and put the game (and critics) to sleep.
He's slaying dragons this year, one big moment at a time.
Palmer has, rather quietly, been flat-out great. The 12-year veteran has thrown for more than 300 yards in six games this season and the Cardinals currently have a commanding three-game lead in the NFC West.
He's also second in the league in passer rating (108) behind only Tom Brady. Palmer, of course, is doing all this in a season where he's coming off a severe ACL injury at an age when players don't typically recover well.
Each week, Palmer uses advanced virtual reality technology to simulate upcoming opposing defenses and has been the leader in the huddle Arizona was missing when both he and backup Drew Stanton went down late last season.
Of course, fans in Cincinnati might not exactly be pulling for this sweet tale of courage and redemption. The Bengals take on Palmer for just second time since he left town on Sunday and the feelings are not warm.
Bengals supporters still view Palmer as a "quitter" or "traitor" and they still burn from his 2011 decision to not return to the Bengals, putting the team in a bind despite a contract that paid him handsomely.
Cincinnati, with its hand forced, ultimately traded Palmer, their franchise quarterback for eight years, to Oakland for a 2012 first-round pick and a conditional second-rounder in 2013 that off-season. A decision owner Mike Brown didn't want to make.
After replacing Palmer that season, Andy Dalton's been a more than capable starter in his five years as a Bengal. But like his predecessor, he has demons to exorcise. Despite an 8-1 record this season and four trips to the postseason in his first four seasons, Dalton needs a playoff win. Bad.
Sunday night presents a fascinating game between two of the league's best and underappreciated quarterbacks, and two different fan bases that have been waiting, waiting, and waiting some more for any of its many quarterbacks to get them over the hump.
It's not crazy to think that this is just Part I of the matchup, and that the Bengals and Cardinals--Palmer and his replacement -- meet again in February.
***
WEEK 11 CHEAT SHEET TRIVIA QUESTION
Kirk Cousins became the first Redskins quarterback with 300+ passing yards and a 150+ passer rating in a game since which legendary Washington signal caller?
Now, on to the picks.
Week 10 Record: 6-8
Overall Record: 78-68
THURSDAY NIGHT
Tennessee Titans at Jacksonville Jaguars: If you thought last week's Thursday night uniforms were a tough look, just wait until you see these two. The Jaguars home uniforms can only be described as mustard and honey. Great. The Titans? Baby blue on baby blue. Sure. As for the game itself, I like the Jaguars in their home building, a place they haven't seen much of. Partly because of their Bills game in London, and partly because of the scheduling gods dealing them an odd hand, the Jaguars have played at EverBank Field just once since Sept. 20.
The Pick: Jaguars 24, Titans 23
Indianapolis Colts at Atlanta Falcons: I'll be at this one on Sunday, and actually like the Matt Hasselbeck-led Colts on the road. That AFC South race got awfully interesting last week with Andrew Luck being ruled out indefinitely and the Texans giving it to the Bengals in Cincinnati. Indy holds serve on Sunday.
The Pick: Colts 30, Falcons 20
St. Louis Rams at Baltimore Ravens: This is familiar territory for Case Keenum. Well, sorta. With their top three quarterbacks hurt last season, the Texans signed Keenum off the Rams' practice squad and started him just six days later against the heavily favored Ravens. Well, guess what? Entering the game 0-8 as a starter, Keenum went out and beat playoff-bound Baltimore, outplaying Joe Flacco in the process. Keenum's been with the Rams all year, and is not being thrust into an unfamiliar situation this time around. Todd Gurley's been contained the past two weeks. He'll get his groove back on Sunday against a struggling Ravens D.
The Pick: Rams 26, Ravens 21
Washington Redskins at Carolina Panthers: How about Kirk Cousins' 2015 season? He gets the call in August to great controversy, has a so-so September, a better October, and is in the midst of an excellent November. Put together a strong final six weeks of the season, and he could suddenly be looking at a mega-contract free agent contract this offseason. And why not? In an era when quarterbacks are seemingly impossibly hard to find, Cousins is young, confident, and is winning both the field and the locker room. The Panthers aren't going undefeated this season. I've got the 'Skins -- led by Cousins -- wining their third straight and knocking them off on Sunday.
The Pick: Redskins 25, Panthers 20
Oakland Raiders at Detroit Lions: In April of 2007, the Oakland Raiders selected JaMarcus Russell with the first overall pick in the NFL Draft. The Lions took Calvin Johnson at No. 2. How different would the past 10 years had been for both of these teams had the Raiders gone with Johnson -- or, say, No. 7 overall pick Adrian Peterson -- instead of the ill-fated Russell? Matthew Stafford would almost certainly not be a Lion, and the history of the both teams could be entirely different. Fun hypothetical. The Raiders, meanwhile, were everybody's darlings two weeks ago. Two straight losses and that bandwagon is suddenly empty again. I'll always take an empty bandwagon over a full one.
The Pick: Raiders 34, Lions 20
New York Jets at Houston Texans: The Texans are coming off a short week, a Monday night road game, and have uncertainty at the quarterback position with Brian Hoyer working through the concussion protocol. The Jets have had 10 days off and time to properly prepare and gameplan. Guess what?
The Pick: Texans 20, Jets 17
Dallas Cowboys at Miami Dolphins: Tony Romo's back and whether he's 40, 50, or 100 percent, it's an upgrade from whatever else the Cowboys have been trotting out on the field the past few weeks. Miami head coach Dan Campbell grew up a diehard Cowboys fan and cherished his time in Big D. "I was a huge Cowboys fan," Campbell said this week. "It was when I played for the Giants, when I started, that was always a weird game for me to play the Cowboys." I think he gets the best of his "favorite" team on Sunday.
The Pick: Dolphins 24, Cowboys 16
Green Bay Packers at Minnesota Vikings: I like the Vikings here. All this talk about Teddy Bridgewater, Adrian Peterson, and rookie Stefon Diggs -- but I love the Vikings for that young defense. It's an embarrassment of riches, filled with glowing gems like Everson Griffen, Linval Joseph, Xavier Rhodes, Harrison Smith, and Anthony Barr. Rookies Eric Kendricks and Trae Waynes could end up being the best of the bunch, but aren't being asked to play big roles just yet. Mike Zimmer has a contender in the NFC, and with the Packers sputtering, this would give the Vikings a two-game lead and a tiebreaker in the division. You better believe the Minnesota crowd -- outdoors in that college stadium -- will be in an absolute frenzy.
The Pick: Vikings 33, Packers 20
Denver at Chicago: The Brock Osweiler experiment begins and if there's any two coaches who know him better than his current ones, it's John Fox and Adam Gase, his former head coach and offensive coordinator, now working wonders with Jay Cutler in Chicago. A former Bronco, himself, Cutler is having his best three-game stretch in some time and Chicago's playing some really good football despite a rash of injuries on both sides of the ball. I like Gase's new project to beat his old one on Sunday.
The Pick: Bears 27, Broncos 21
Tampa Bay Buccaneers at Philadelphia Eagles: Mark Sanchez, expected to start on Sunday, ranks 71st in career interception ratio out of the 76 quarterbacks in NFL history who've thrown at least 2,000 passes. Not a good statistic. He's also thrown an interception in every game he's ever started for the Eagles. Again, not a good statistic. But this is "Must Win" for Chip Kelly's Eagles and with a full week to prepare, I'll give Philadelphia the edge at home. That's with Jason Peters, with Connor Barwin -- or without.
The Pick: Eagles 27, Buccaneers 23
Cincinnati Bengals at Arizona Cardinals: If it seems like Larry Fitzgerald is having one of the best seasons of his career, it's because he is. Fitzgerald's 65 catches, 836 yards, and 7 touchdowns are the most he's ever had in any season -- in all three categories -- through nine games. There's a fountain of youth thing going on in Arizona and I want some. They win again on Sunday.
The Pick: Cardinals 24, Bengals 17
San Francisco 49ers at Seattle Seahawks: It's been a long and strange 2015 season for the 49ers and their fans. The road trips have been the worst part. San Francisco is 0-4 on the road this season, with blowout losses at Pittsburgh, Arizona and St. Louis. Jim Tomsula reportedly spent a portion of the bye week with his coaches trying to figure out why the team hasn't played well in away games and coming up with ways to change their fate, moving forward. I don't see playing in Seattle as the ideal testing ground for those new tactics.
The Pick: Seahawks 30, 49ers 17
Kansas City Chiefs at San Diego Chargers: Kansas City is quietly creeping up on the Broncos in the AFC West standings, but I like the 'Bolts off a bye to silence any talk of that on Sunday. The last time we saw San Diego, Philip Rivers was getting knocked around by the Bears defense and losing yet another heartbreaker on a Monday night. The Chargers offensive line is struggling and will overcome a rash of injuries to somehow find a way.
The Pick: Chargers 27, Chiefs 21
Buffalo Bills at New England Patriots: Another Bills game and yet again, Rex Ryan is somehow the story. Maybe he shouldn't be. Maybe one of his players -- like rookie Ronald Darby -- deserves a little pub. General Manager Doug Whaley's first pick of the 2015 Draft (Buffalo gave up their first rounder in the Sammy Watkins trade) has been lights out at cornerback and has already set a Bills rookie record for most passes defended. The Bills are going to give the Patriots a game on Monday. But no, they're not winning.
The Pick: Patriots 27, Bills 20
READER EMAIL OF THE WEEK
Peter,
I'm flipping through the sports channels Tuesday night and I see you with Mike Garafolo and you're looking all astute and academic with a pocket square and you say that you'd rather have Joe Flacco, Andy Dalton, and Ben Roethlisberger as your team's quarterback than Johnny Manziel on Fox Sports 1. Well, NO CRAP DUDE. And I'd rather have a Victoria Secret model than my girlfriend. Sometimes you don't get to just PICK. You make the most of what you've got. Why can't we Browns fans just be allowed to enjoy this for a moment without all you guys raining on our parade? Johnny may not be a Hall of Fame quarterback but he's better than anything we've had since Kosar.
Heath, Shaker Heights, OH
Heath,
Please print that email (and this article) and present it to your girlfriend. I'm sure she loved that analogy and I'd love to see her reaction. And I'm rooting for Johnny! He's good for the sport. Football's better when the Browns are relevant.
Week 11 Cheat Sheet Trivia Answer: Prior to Cousins, Sammy Baugh was the last Redskins quarterback with 300+ passing yards and a 150+ passer rating in a game. He did it in 1948.