Wednesday, May 3: Miami Marlins at Tampa Bay Rays game preview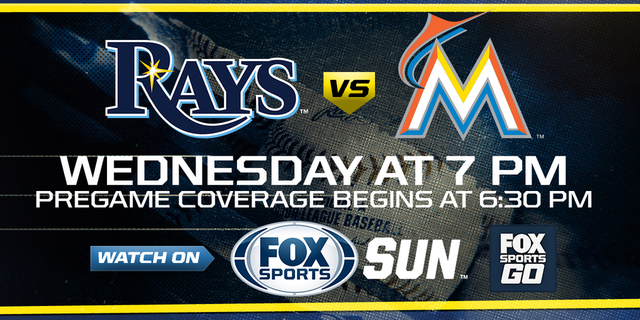 TV: FOX Sports Sun
TIME: Pregame coverage begins at 6:30 p.m.
Colby Rasmus' debut as the Tampa Bay Rays' left fielder appears to be coming soon, possibly either Wednesday or Thursday against the Miami Marlins.
The Rays lead the Marlins 2-0 in this year's Citrus Series after wins the past two days in Miami. The series shifts to Tropicana Field on Wednesday for a battle of left-handers. Tampa Bay will start Blake Snell (0-2, 3.41 ERA), and Miami will counter with Adam Conley (1-2, 6.86).
Rasmus, who signed a one-year, $5 million deal with the Rays in January after seven major league seasons split between the St. Louis Cardinals, Toronto Blue Jays and Houston Astros, had offseason hip surgery and started the year on the disabled list.
Back from the DL on Tuesday, Rasmus drew a walk as a pinch hitter in his season debut.
Corey Dickerson was solid in left field while Rasmus was out, but that appears to be a temporary appointment.
"If we are all healthy," Rays manager Kevin Cash said, "we plan on Colby playing a lot of left field."
Snell will make his 25th career start on Wednesday and first against the Marlins. The 52nd player selected in the 2011 draft, Snell has a 6-10 career record with a 3.51 ERA.
His biggest problem is that he has failed to last longer than five innings in four straight starts and eight of his past nine.
Since the start of last season, he has averaged 18.9 pitches per inning, the least-efficient count in the major leagues.
The Marlins will counter with Conley, who faced the Rays once last year as a rookie, pitching well but getting a no decision -- six innings, two runs, five hits and five strikeouts.
Overall this season, Conley has shown improvement, and he owns perhaps the most upside on the starting staff.
More production from Conley is essential since the Marlins have just five wins from the rotation, which is the fewest among any team in the majors. They also have only eight quality starts, which is the second fewest in the majors.
The Marlins' offense has struggled as well, scoring two runs or fewer in five of the past six games after a 3-1 loss to Tampa Bay on Tuesday.
The Miami lineup can be dangerous at times. Marlins leadoff batter Dee Gordon, who led the majors in steals in 2014 and 2015, swiped three bags on Monday.
"When he gets on base, you know he's going to run," Cash said. "There's not much you can do about it."
With Gordon producing five hits in the past three games, the Marlins' offense should be more productive with hitters such as Martin Prado, Christian Yelich, Giancarlo Stanton, Marcell Ozuna, Justin Bour and J.T. Realmuto to follow.
But, somehow, the lineup has only clicked in rare instances such as scoring 10 runs against the Pittsburgh Pirates on Sunday.
"Right now it is a little bit of a frustrating time for us," Marlins manager Don Mattingly said after the Tuesday defeat. "It's not working for us on either side right now.
"We just have to regroup."