Weaver set to start Padres' opener vs. D-backs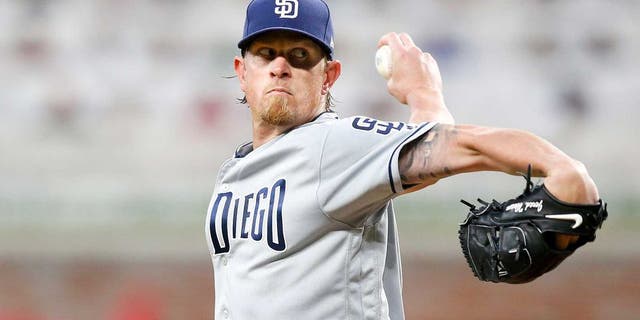 SAN DIEGO -- A rising Jered Weaver awaits the Diamondbacks as the San Diego Padres open a three-game series against Arizona on Friday night.
Weaver, who will be opposed by Arizona's Taijuan Walker, continues to bob and weave through lineups, knowing his fastball can often arrive at the same speed as another pitcher's changeups.
But Weaver plods on, a 12-year veteran with an array of off-speed weapons and maybe just enough guile to pull it off.
The former Los Angeles Angels standout is coming off is his best showing in a Padres uniform. Weaver (0-4, 6.05 ERA) allowed a first-inning run to the Chicago White Sox and then went five more innings without getting nicked on Sunday.
Although the Padres are in a win-later mindset, Weaver's prior outings this season often were not competitive. No one has allowed more homers in the majors than the 14 he has served up.
But Weaver shrugged his shoulders and grabbed the ball to face the White Sox, as he has done at the major league level since 2006.
"He's one of the persons who is able to minimize the magnitude of the moment," Padres manager Andy Green said. "He goes through life and gives you what he's got at that moment, the best version of himself, and if the best version is good, it's going to be a quality start."
With Weaver, who is 1-2 with a 5.29 in his career against the Arizona, there is usually little in between.
"He's had four quality starts since he's been here, and he's had some rough ones as well," Green said. "He doesn't hide from those. The impressive thing to me (in his last outing) is he has the bases loaded and a run is in and he has nobody out and no more runs scored. He is not afraid of anything outside distracting him. He is locked in. No blame game on anybody else. He expects to execute, and that's the No. 1 quality in him that we want in our other players.
"If he has a bad outing, there is nothing outside that caused that. The success or failure belongs to him, and that's a powerful place to be as a competitor."
As for Walker, he remembers the last time he squared off against the Padres, on April 27.
Walker also remembers the last time he won, on April 27.
In his best game in an Arizona uniform, Walker pitched a season-high eight innings while collecting a season-high 11 strikeouts. He surrendered four hits and two runs with no walks in beating Weaver.
Walker wasn't nearly as tidy in his last outing while absorbing his second straight defeat. He went six innings and was charged for four runs (three earned) on eight hits in a 4-3 loss to the Pittsburgh Pirates on Saturday.
"Four runs, you've got to keep it closer to help give ourselves a better chance to win the ballgame," Walker said after the game. "I've got to have cleaner innings and quicker innings. The first four innings there was someone on every time, especially in scoring position, too, and when that happens, I just kind of throw stressful pitches and I have to work harder."
Walker is 2-1 with a 1.80 ERA lifetime against the Padres.