WBC helped MLB build bridges with Cuba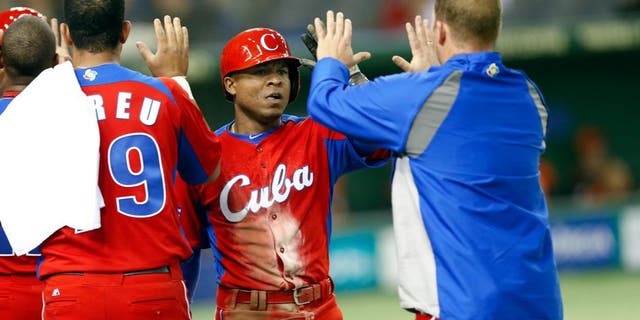 Ten years later, Paul Archey remembers the fax from Havana.
The inaugural World Baseball Classic was a little more than two months away, and yet Cuba's involvement was in doubt. The U.S. Office of Foreign Assets Control had refused to grant a license for Cuba to take part, because the WBC's application called for Cuba to receive prize money; the Treasury Department said that would violate terms of the U.S. embargo.
The decision jeopardized the nascent WBC's viability. "Without the Cubans, the tournament would've been meaningless," says Gene Orza, who was then chief operating officer of the Major League Baseball Players Association. "At the international level of play, they were preeminent in the world. It would be like having the World Series, but you could never use the Yankees."
However, Cuban sports officials were determined to participate. In Cuba, the prestige and success of the national baseball team is central to the country's identity and Communist ideology. Having frequently dominated minor-league competition in Olympic baseball, the Cubans felt obligated to compete against the world's best players.
So, the Cuban government proposed a compromise: Any prize money that would otherwise go to the Cuban baseball federation, should instead be donated to Hurricane Katrina relief efforts.
The offer,€" in English, was equal parts savvy and sincere. It was waiting for Archey one morning when he arrived at MLB's Manhattan offices.
"If you could only imagine, having this letter in your hands," recalls Archey, who led MLB's international operations at the time. "How could you reject this?"
Of course, MLB didn't. Nor did the Treasury Department. The World Baseball Classic opened 10 years ago this week. Cuba won a silver medal at San Diego's Petco Park. And World Baseball Classic Inc. paid for the construction of two homes in the Gulf Coast region -- €" although the embargo prohibited a formal announcement of Cuba's role in the donation.
The Cubans, Archey says, "did everything we asked them to do. And when I went back to Cuba before the second (WBC), they told me, 'You did everything you said you were going to do. You followed through.' They were skeptical when we invited them, but they realized MLB was in it for the right reasons . . . There was a tremendous amount of trust gained through their participation in the 2006 WBC."
Cuba returned to the WBC in 2009 and 2013. Now there's another,€" even more symbolic game ahead: The Tampa Bay Rays are scheduled to play the Cuban national team March 22 in Havana. President Obama is expected to attend, a further indication of the favorable trend in relations between the countries.
The historic exhibition will occur in large part because the White House wants it to be so. But there's also a line one can draw from Cuba's involvement in the WBC -- €" a joint venture between MLB and the MLBPA -- and what's about to happen at Estadio Latinoamericano.
"Over a long period of time, beginning with the Baltimore Orioles' visit (to Cuba in 1999), and continuing through the WBC, we have built a baseball-focused relationship with Cuba," MLB commissioner Rob Manfred told FOX Sports in a telephone interview Thursday, the 10th anniversary of the first WBC game. "The shift in policy from the U.S. government and thawing of relations has helped that relationship grow.
"Baseball is uniquely situated to play a role in the evolving relationship of the U.S. and Cuba, because it's so inherently part of our culture and theirs. It gives the two countries a common ground that is apolitical."
Indeed, while the Obama administration's move to normalize relations with Cuba has been the catalyst for this month's exhibition in Havana, baseball officials acknowledge the contributions of then-President George W. Bush prior to the 2006 WBC. Roland Betts, chairman of the Chelsea Piers Sports and Entertainment complex in New York and close confidante of Bush, has served on the WBC's board of directors.
"There were discussions at the White House level," Orza recalls. "President Bush was in favor of Cuba's participation in the games. His approval was instantaneous. There was never any need to convince President Bush or [former White House Chief of Staff] Andy Card. They were decisively important. Without their support, it wouldn't have happened.
"Roland Betts was crucial in getting the Cubans involved. Very frankly, the Cubans knew we were making the offer in friendship, and not for strategic reasons. We had to have the Cubans for the tournament to be viable. More than that, we wanted the Cubans to play. They deserved to be there."
Long before the White House and Treasury Department signed off on Cuban involvement in the WBC, Archey and Orza began their baseball diplomacy in an unlikely place.
Italy.
As plans for the inaugural WBC progressed, talks between American and Cuban baseball officials moved haltingly due to travel restrictions and an absence of diplomatic ties. Riccardo Fraccari, then head of Italy's baseball federation, learned of the communication barrier during an unrelated trip to MLB's offices in New York and subsequently phoned Cuba's top sports minister.
Fraccari was an ideal intermediary: There's a long history of cooperation between the Cuban and Italian baseball federations, and Fraccari has a strong relationship with Antonio Castro -- Fidel's son and currently a global ambassador for the World Baseball Softball Confederation.
With the Cuban national team playing at a tournament in Parma that August, Fraccari helped to make arrangements for Archey and Orza to meet with Cuban baseball officials at a hotel in nearby Bologna. Fraccari, now the WBSC president, told FOX Sports this week that Antonio Castro was among the five or six Cuban representatives at the initial session.
"The thing that sticks with me from that meeting was that it became very evident, if they were going to participate, we needed to travel to Cuba first," Archey remembers. "We needed to formally invite them. We needed to travel to Cuba out of respect, meet with their baseball and governmental officials, and lay out our plan. We needed to do this the right way."
And they did. Archey traveled to Cuba twice in the months leading up to the WBC -- €" including once with Orza, evidence of the earnest collaboration between MLB and the MLBPA on tournament matters. The WBC -- €" on its most basic level, a business co-owned by MLB and the MLBPA -- came about shortly after threats of contraction to 28 teams nearly brought about a work stoppage. The sport has had two collective bargaining agreements signed since then, with minimal rancor.
"Our efforts in the international area have been a positive, in terms of building a deeper and more mature relationship with the MLBPA," Manfred said Thursday.
The coming months could bring another crucial development in relations among MLB, the MLBPA, and Cuba: As reported by the New York Times, MLB has proposed to the U.S. government that Cuban players be allowed to sign directly with MLB clubs, provided that part of their salaries are donated to a nonprofit-style organization that "(supports) youth baseball, education and the improvement of sports facilities in Cuba." The concept is designed to circumvent the dangerous human trafficking element associated with defections from Cuba.
Manfred declined to predict a timeline for the U.S. Treasury Department's decision on MLB's license request, but he added, "I hope the event in Cuba (this month) puts some focus on the need to get a more open and regular system of exchange for players who want to play in the major leagues."
If MLB's application is approved, one item of business will remain: Because the U.S. embargo remains in place, the Cuban baseball federation has yet to see its revenue shares from the '09 and '13 WBC tournaments.
"I made a promise to the Cubans that someday they will be compensated like all the other teams for their play -- that we would give them the money they deserve," Orza said. "As far as I'm concerned, MLB and the MLBPA owe the Cubans for their play in the WBC.
"It's not been set aside. We're not in violation of any agreement. It is a question of honor. We have to honor the promise that I made to them, that someday, this embargo's going to be lifted, and somebody's going to go down there and hand them a check. I'm keeping track of this. All I will say is that we owe the Cubans money. And at some point, hopefully we will pay it."