Wayne Taylor Racing video pays homage to 'humble' Jeff Gordon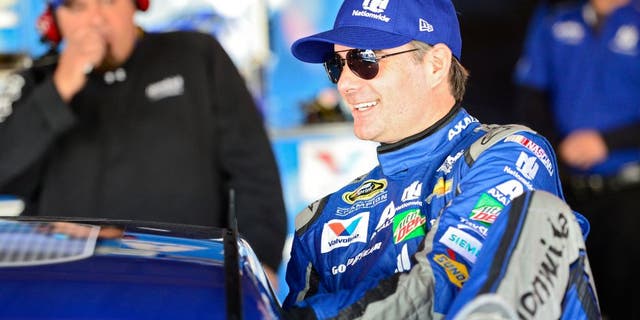 NEWYou can now listen to Fox News articles!
FOX Sports NASCAR analyst Jeff Gordon has made quite an impression on his Wayne Taylor Racing teammates for the Rolex 24 at Daytona.
That much is evident very quickly in a video released by the team on Wednesday.
Gordon, the FOX Sports NASCAR analyst and four-time NASCAR Premier Series champion, will headline WTR's lineup for the Rolex 24 in the team's new Cadillac DPi-V.R. Gordon joins brothers Ricky and Jordan Taylor and Max Angelelli at the wheel of the Dallara-based Prototype, in what will mark Gordon's first sports-car racing start in 10 years.
In the video, Gordon's latest teammates all heap praise on him for "being humble" and attempting to listen to them to learn as much as he can about competing in the sports-car race.
Gordon also expresses his excitement about racing in the event for the first time since 2007 when he competed in another WTR entry. On that occasion, he finished third on the podium alongside then-teammates Angelelli, Wayne Taylor and Jan Magnussen.
"This is a dream come true for me," he says.
Gordon, 45, first retired from full-time driving in NASCAR's top series following the 2015 season -- when he made the transition to the FOX broadcasting booth. But after spending the first half of the 2016 season in the booth for FOX, Gordon was called upon by car owner Rick Hendrick to sub for Dale Earnhardt Jr. for eight races in the latter half as Earnhardt recovered from a concussion.
The 2007 Rolex 24 is Gordon's only endurance racing start to date, in a storied 35-plus year career that's included 93 NASCAR Premier Series wins, 81 poles and nearly 500 top-10 finishes in stock-car racing competition.
Gordon got his first laps in the new Cadillac DPi during a 24-hour endurance test at Charlotte Motor Speedway in November and also was in attendance at IMSA-sanctioned tests at Daytona last Dec. 13-14 and again earlier this month.
FOX Sports will provide a total of 25 hours of race coverage of the Rolex 24 at Daytona, beginning with the start of the race at 2 p.m. ET on FOX on Jan. 28. Additional coverage will be provided on FS1 and FS2.
Check out the Wayne Taylor Racing video below, embedded in a tweet that indicates how pumped Gordon is for the event.