Watch Trea Turner go headfirst into third base to complete the cycle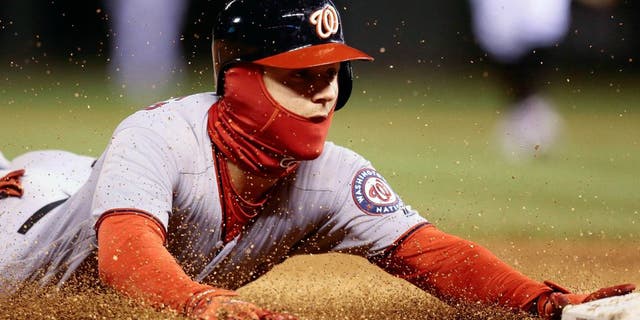 NEWYou can now listen to Fox News articles!
There was all kinds of offense in the Nationals 15-12 win over the Rockies at Coors Field on Tuesday night, but Trea Turner stole the show by hitting for the cycle.
Washingtons shortstop singled in the first inning, doubled in the second, homered in the sixth and stepped to the plate in the seventh in need of a triple. And he got it, complete with a dramatic headfirst slide. Here are all four of the historic hits:
Believe it or not, Turner wasnt immediately aware of his feat. From MLB.com:
"I actually wasn't [thinking cycle]," Turner said of his triple. "I was trying to survive the cold. Bases loaded, one out, I was just trying to hit the ball to the outfield. I didn't want to hit into a double play. I slid in, and I had to tell myself, 'Wait a second. I hit for the cycle.'"
Turner, who entered the game with just two RBI this season, drove in a whopping seven runs Tuesday. Perhaps manager Dusty Baker is spot-on with those comparisons to Rickey Henderson.
It was the second cycle in the majors this season the Padres Wil Myers supplied the first and the third in Nationals history.
Focus on Sport/Getty Images | Focus on Sport