WATCH: Texas Tech nets 2 points on sidearm sling to 308-pounder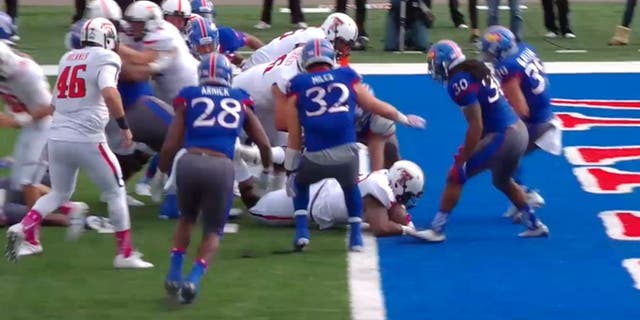 Kliff Kingsbury played quarterback for Mike Leach at Texas Tech, so the Red Raiders' fourth-year coach always has a bag full of tricks with him, and he opened it up early in Saturday's game against Kansas.
As Texas Tech was lined up for a two-point conversion, Kingsbury sent deep snapper David Brenner to the normal hash mark with two players lined up behind him, one split wide to the right with the rest of the linemen stationed to the far left in a typical field-goal formation.
Instead of snapping the ball, Brenner rose up and sent a quick sling backward to 6-foot-6, 308-pound offensive lineman Le'Raven Clark, who gobbled up the lateral and literally crashed forward into the end zone to complete the conversion for an 11-0 lead. Watch it above.
MORE NEWS: Want stories delivered to you? Sign up for our College Football newsletters.