Watch Stephen Curry's amazing reaction to a question about Kevin Durant's 'kerfuffle'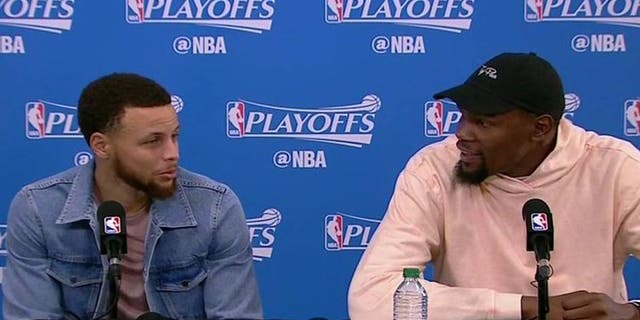 Kevin Durant capped a 38-point, 13-rebound performance in the Golden State Warriors' Game 3 win Saturday with a flagrant foul on Utah's Rudy Gobert:
After the victory over the Jazz, both Durant and Stephen Curry took to the podium to field questions, and one enterprising reporter, the esteemed Andy Larsen, asked Durant about the "kerfuffle."
Before the Warriors forward could respond, Curry snapped to attention, and the Golden State stars made sure to give a shout out for the strong diction:
REPORTER: "What happened on that Gobert kerfuffle at the end?"
CURRY: "That is a word right there."
CROWD: [Laughter]
DURANT: "What did you say?"
CURRY: "'Kerfluffle?'"
REPORTER: "Kerfuffle."
DURANT: "Great job, bro."
CURRY: "That is strong."
The exchange wasn't Durant's only entertaining interaction with the language on the night, as he appeared to use a bit of profanity to ask the Jazz mascot to vacate his general area:
We're lucky that mascot exchange didn't escalate into a brouhaha.
Chris Nicoll-USA TODAY Sports | Chris Nicoll