Watch Ryan Kesler's son take a shot in the Four Line Challenge (VIDEO)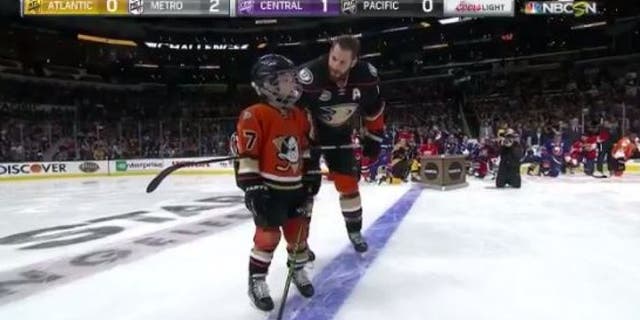 When Ryan Kesler was introduced to the Staples Center crowd at the NHL All-Star Skills Competition, he couldn't help but crack a little smile as the boos rained down from the LA Kings faithful. So when he stepped up to take his second shot of the Four Line Challenge from center ice, he sent in a ringer:
Taking the shot for his dad was Ryker Kesler. Outfitted in his own Ducks jersey, the younger Kesler got quite the applause as he stepped up to take his shot. Something his pops couldn't help but notice.
'I think it's the first time a Kesler's been cheered in this buidling,' Kesler told NBC Sports Pierre McGuire afterwards.