Watch Russell Wilson get tripped by his own lineman to hand the Falcons a safety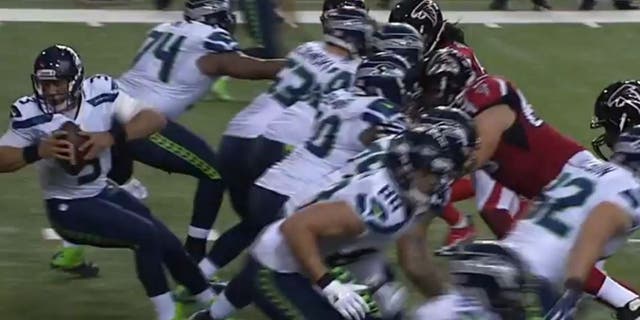 NEWYou can now listen to Fox News articles!
The Seattle Seahawks were this close to adding to their 10-7 second-quarter lead against the Falcons, before a series of unfortunate events resulted in two points for Atlanta (on FOX and FOX Sports GO).
Returner Devin Hester took a Falcons punt back for over 70 yards, but Seattle committed holding on the line of scrimmage prior to the kick, pushing the Seahawks all the way back inside their own 10-yard line.
After a three-yard loss on first down, Russell Wilson lined up with essentially one goal for the rest of the possession: don't give up a safety.
Cue the sad trombone sound effects:
Wilson got his feet tangled up with his offensive linemen, falling backward into the end zone and allowing Atlanta to come away with the safety -- and the internet immediately jumped to one joke in particular:
The Falcons tacked on a field goal on the subsequent possession to take a 12-10 lead into halftime.