Watch Russell Westbrooks testy exchange with a reporter after Thunders Game 4 loss to Rockets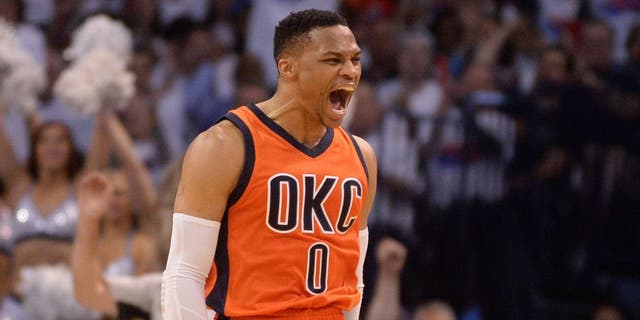 NEWYou can now listen to Fox News articles!
Russell Westbrook was in a predictably foul mood following the Thunder's Game 4 loss to the Rockets, and with good reason. Oklahoma City led by as many as 14 points and held James Harden to just 16 points on 5-of-16 shooting, yet Houston made enough big plays down the stretch to come away with a 113-109 victory to take a 3-1 lead in the best-of-seven series.
OnceWestbrook and Steven Adams sat down at the postgame press conference podium, the Thunder point guard took offense to the first question that was asked.
A reporter wanted to know if Adams noticed a boost of energy from the Rockets when Westbrook went to the bench. The question was a legitimate one, since Houston has outplayed OKC so significantly in those stretches during the series, and because Adams occasionally logs minutes with the Thunder's second unit.
Westbrook interpreted things a little differently, however, which led to a testy exchange as he insisted on answering the question himself.
"I don't want nobody to try to split us up," Westbrook said. "We're all one team. If I go to the bench or if Steven's on the floor -- we're in this together. Don't split us up. Don't try to split us up, don't try to make us go against each other. Don't try to make it Russell and the rest of the guys, Russell against Houston. I don't want to hear that. We're in this together. We play as a team, and that's all that matters. That's it."
The reporter persisted, but Westbrook wasn't interested in this line of questioning, and repeatedly said "next question" after making his initial couple of statements.
Troy Taormina-USA TODAY Sports | Troy Taormina