Watch Russell Westbrook jaw with Kevin Durant even down by 18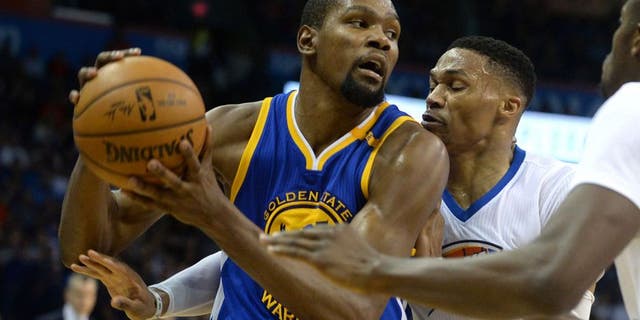 Russell Westbrook hadn't had the kind of night he hoped for in Kevin Durant's return to Oklahoma City, with the Golden State Warriors leading handily most of the way. But even trailing by 18 in the third quarter, Westbrook let his frien-emy KD know that he wasn't going down without a fight.
"I'm coming!" he barked at Durant as the teams headed to their benches during a timeout, and Durant chirped right back at him and his former teammates:
It turned out the action was just heating up: Minutes later, Durant took exception to a foul by Andre Roberson, and the two got in each other's faces as things got chippy:
Westbrook scored 20 points in the third to keep the Thunder within striking range, giving him 41 through three quarters. But more importantly they let KD and the Warriors know they weren't rolling over.