WATCH: Redskins WR Andre Roberts makes toe-tapping, over-the-shoulder TD grab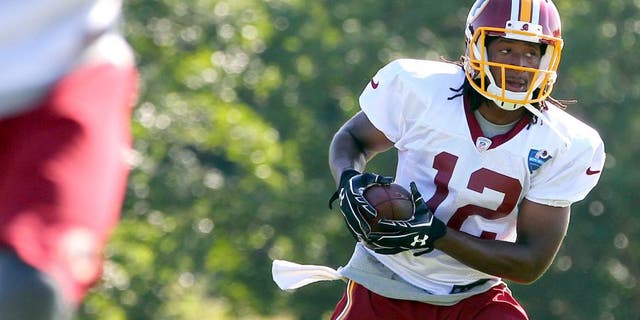 The 2015 season is a big one for Washington Redskins wide receiver Andre Roberts. General manager Bruce Allen signed him to a four-year, $16 million contract last offseason, and his first season with the team was a huge bust.
The Redskins added dynamic slot receiver Jamison Crowder via the draft, and he stood out during last week's joint practices with the Texans. Crowder missed Monday's practice with a hamstring injury, and during this practice, it was Roberts who showed off his receiving skills.
Roberts got the early step on a go route, but it was how he finished the route that caught our eyes. Roberts tracked the ball perfectly over his shoulder and dragged both feet in the back corner of the endzone or a would-be score.
Roberts is currently ahead of both Crowder and second year wide receiver Ryan Grant for the starting slot receiver role, but both players are on his heels. Roberts led all NFL wide receivers in dropped passes when in the slot in 2014, per Pro Football Focus. He will have to continue to show improved hands throughout training camp and the preseason to hold off both Crowder and Grant.
(h/t @Redskins