Watch: Rangers do the 'Whip/Nae Nae' after clinching AL West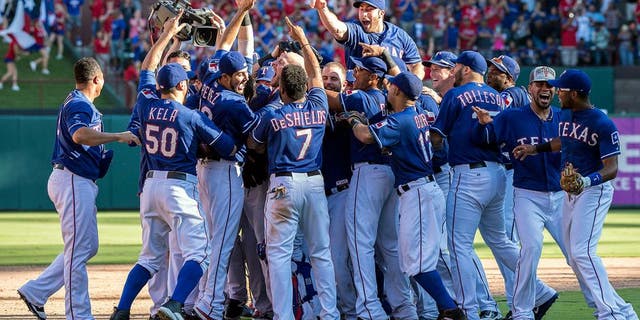 NEWYou can now listen to Fox News articles!
After clinching the AL West outright thanks to a masterful Cole Hamels complete game on Sunday afternoon, the Texas Rangers let it all out in the clubhouse.
It's been a long journey for Jeff Banister's club this season, which had to make do without ace Yu Darvish and dealt with key injuries to other stars along the way.
As a result, they let loose in the clubhouse with the champagne and celebrations after the game.
At some point during the revelry, several Rangers danced and sang along to two of the most ubiquitous songs in the world at the moment: Fetty Wap's 'Trap Queen' and the infectious dance-oriented anthem Watch Me (Whip/Nae Nae), by Silento. Here's a video of that sequence, fortunately preserved for the Internet by the Dallas Morning News:
As for the rest of their celebrations, the Rangers' Twitter account was very eager to document it all. Here are some more images and videos from the afternoon:
Because they won the AL West outright (and made sure the Houston Astros knew it), the Rangers have a few days to prepare to open the ALDS on the road against the powerful Toronto Blue Jays on Thursday night.