Watch Ole Miss OT Laremy Tunsil score Sugar Bowl TD on trick play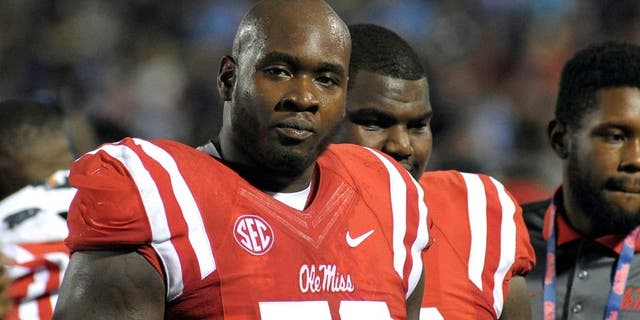 It was an up-and-down season for Ole Miss tackle Laremy Tunsil, but if the Sugar Bowl was Tunsil's final college game, the Rebels made sure his NCAA career ended in style.
On the final play of the first half of Saturday night's bowl game against Oklahoma State, with Ole Miss already in control, quarterback Chad Kelly rolled to the right, then threw a lateral back to the left to a wide-open Tunsil, who made the catch and rumbled into the end zone for his first college touchdown to give the Rebels a 34-6 lead. Watch the play, as well as the ensuing team celebration with Tunsil at the center, below:
Tunsil, a 6-foot-5, 305-pound junior, was suspended for the first seven games this year due to impermissible benefits and was arrested in the summer following an altercation with his stepfather. He also is expected to be among the top overall picks in the 2016 draft if he declares.