WATCH: North Texas troll Tennessee on the condition of its field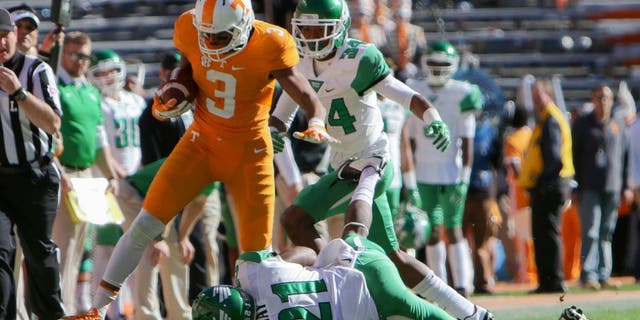 NEWYou can now listen to Fox News articles!
Once again the field was in rough shape for a Tennessee home game. Randy Sartin USA TODAY Sports
The playing surface inside Neyland Stadium was already a topic of discussion following Tennessee's game against South Carolina, in which Gamecock interim head coach Shawn Elliott questioned the condition of the field.
A week later and the grass of Shield Watkins Field has only gotten worse, hitting a low point against North Texas. The field has become so bad, the Mean Green took the opportunity to mock the Vols home field during the game:
North Texas may have lost the game 24-0, but they won the day with that tweet.
Tennessee head coach Butch Jones once again faced questions regarding the sorry state of the grass the Vols play during his post game press conference. Jones carefully answered the question without throwing any individual or group under the bus.
"I've got to get our team ready. I know we'll take every possible adjustment," Jones said. "We will do everything we can on the field, but I've got to worry about getting this team ready to go for the next two weeks and playing our best football and getting our health back."