Watch Michael Bradley's breathtaking long-range chip for the USMNT vs. Mexico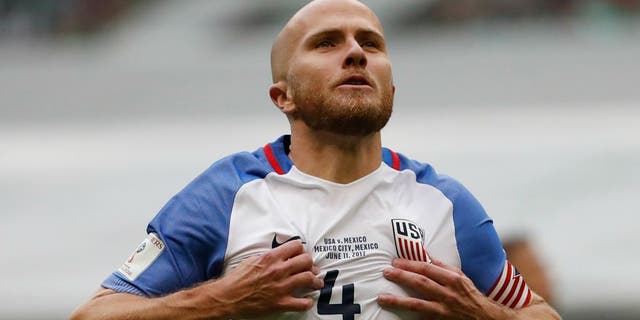 NEWYou can now listen to Fox News articles!
Michael Bradley gave the U.S. men's national team an early lead against Mexico with a beautiful long-range effort past Guillermo Ochoa.
The USMNT captain dipped in topick up a loose pass from Mexico and somehow spotted Ochoa off of his line. Bradley threw his leg back and hit a perfect chipped effort to put the United States up 1-0 in the 6th minute.
It was darn-near unbelievable. He celebrated with a kiss of the U.S. crest and an open-armed celebration aimed at the American supporters in attendance.
Bradley's been getting some flak for his performances recently, but the 29-year-old delivered the goods early in his side's World Cup qualifying match against their bitter rivals. Mexico would go on to tie it up on a Carlos Vela goal and there's still plenty of time left in the match but the Americans couldn't have dreamed upa better start at the famed Estadio Azteca.