Watch Max Scherzer mock Phillies fans after Jayson Werth's 2 monster home runs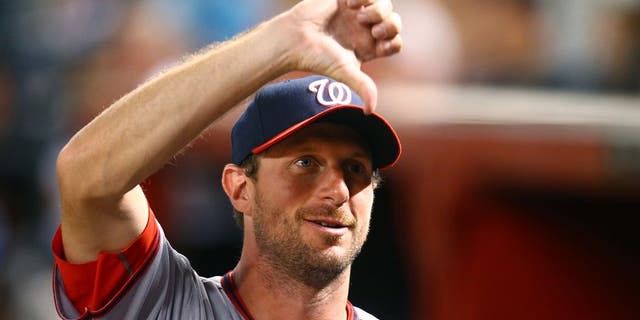 Jayson Werth is still considered public enemy No. 1 at Citizens Bank Park, and his Nationals teammate Max Scherzer apparently finds it hilarious.
It's been six years since the former Phillies fan favorite left for the Washington Nationals, but the fans in Philadelphia still hold a grudge. Werth is still booed nearly every time he visits his former home ballpark and Sunday was no exception.
After homering off Phillies starter Jeremy Hellickson in the first inning, Werth soaked in the jeers as he rounded the bases, while Scherzer jokingly joined in on the boos.
When Werth homered again in the fifth -- a two-run, go-ahead homer to left -- Scherzer turned around and directed his boos towards Phillies fans, which was as hilarious as it sounds.
It was certainly an award-winning dig by Scherzer but the fun didn't last for long. Philadelphia tied the game in the eighth and fans erupted when Werth struck out to lead off the ninth. "The Phillies fans sound like they just clinched the pennant," MASN play-by-play man Bob Carpenter said.
The Phillies went on to win the game 6-5, thanks to a Freddy Galvis sac fly in the bottom of the 10th.
Caylor Arnold-USA TODAY Sports | Caylor Arnold