WATCH: Mark Richt shares stirring words with his kicker prior to game-winning FG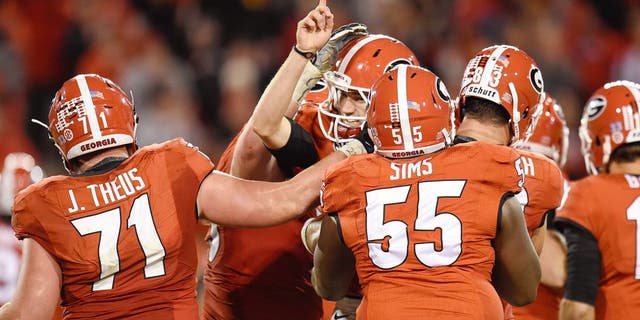 NEWYou can now listen to Fox News articles!
Thanks to Morgan, Georgia's SEC hopes are alive and well. Dale Zanine USA TODAY Sports
After suffering back-to-back SEC losses, Georgia's once promising season was on the brink of disaster at home against Missouri, and the team appeared to feel the anxiety all night long.
Quarterback Greyson Lambert was intercepted on the first drive of the game. The Bulldogs converted only nine of 19 third down attempts and were held to under 300 yards of total offense for the game.
Perhaps the biggest gaffe in the game came when kicker Marshall Morgan missed a 26-yard field goal late in the fourth quarter that would have given Georgia the lead. The next drive, Morgan would be given another opportunity to win the game with only three minutes remaining in the contest.
Before running his kicker out for one final attempt, head coach Mark Richt shared a heart-to-heart with Morgan. Keep in mind that a loss could have resulted in Bulldog Nation clamoring louder than ever for the firing of Richt.
With the weight of the season on both their shoulders, what was said before the crucial kick?
Thankfully for Richt, Morgan and the rest of the team, the kick was good and a victory was achieved. Despite the current pressure in Athens, the Bulldogs still control their own destiny in the East. Beat Florida in two weeks and win out in conference play and Georgia will once again be playing in Atlanta for the SEC Championship on Dec. 5.