WATCH: Mark Hunt got in best shape of career with AKA Thailand training camp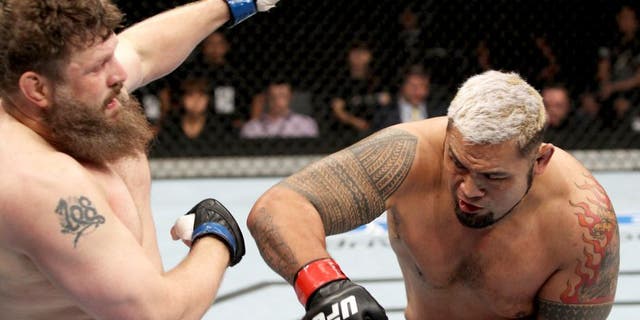 NEWYou can now listen to Fox News articles!
In order to try and snap a two-fight losing streak, UFC heavyweight contender Mark Hunt took his training camp for Saturday's rematch against Antonio "Bigfoot" Silva to AKA Thailand. The kickboxer has spent his camp preparing under the tutelage of retired UFC welterweight Mike Swick and others at the Southeast Asia MMA facility, with a focus on improving the big man's conditioning.
So far, it appears to be working. Hunt is slimmed down, and insists that AKA's specific way of conditioning their athletes has worked for him. He's slimmed down and says he came into fight week just a hair over the heavyweight limit.
"It's been amazing," he said of training in Thailand at AKA.
"I feel it's the best shape I've ever been in, for any camp."
As for the recently retired Swick, coaching and cornering Hunt is an honor and huge opportunity. The TUF veteran marveled at Hunt's longevity in fighting.
"I've always been a huge Mark Hunt fan," he recounted.
"I remember in high school I watched him knock out the best fighters in the world, in Japan in 100,000 seat auditoriums. It was so exciting. He's such a great fighter, such a great warrior. Then I went on to have my own UFC career -- 15 fights, 10 years -- I'm retired now, and he's still going. To have him train here, and come to AKA Thailand and do one of his biggest fight camps with us, and with me helping coach him, it's phenomenal. It's beyond words."
According to Swick, Hunt fit in perfectly with AKA's style of grinding and working hard. "We push really, really hard," he said.
"We're going to get you in shape, if you train hard. The good thing about Mark Hunt is, he's not a quitter. So, you get him here, you put him in a curriculum, and you're there with him, he will do it. He will give his all, every time."
Watch the full video, above, and stay tuned to us all weekend for complete UFC 193 coverage.