WATCH: Luke Falk, Gabe Marks team up for game-winning TD vs. UCLA with 3 seconds left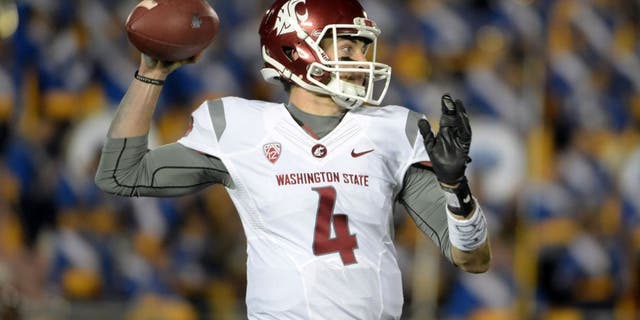 Luke Falk and Gabe Mark combined to make the biggest play of the Cougars victory over UCLA in Los Angeles. Kirby Lee USA Today
Following Josh Rosen's incredible 37-yard touchdown run to give the Bruins a 27-24 lead with 1:09 left, Washington State needed a miracle to pull out the victory in Los Angeles.
Quarterback Luke Falk and wide receiver Gabe Marks found exactly what the Cougars were looking for.
With 11 seconds left, Falk took the snap from the 21-yard line and lofted up a great pass to Marks. Marks manuevered around Bruin defenders, found the ball and came away with the game's biggest play.
The touchdown gave the Cougars the 31-27 victory.