Watch linebacker A.J. Hawk level a fan in a bubble suit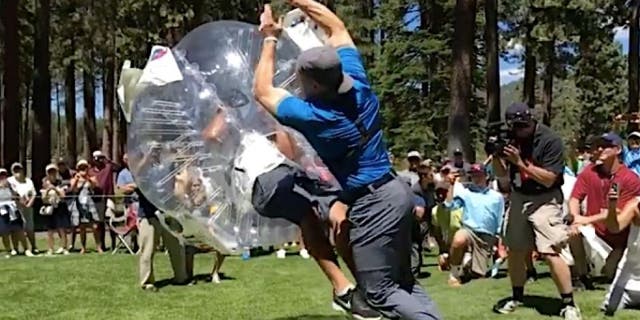 NEWYou can now listen to Fox News articles!
Free agent linebacker A.J. Hawk is one of the many celebrities taking part in the American Century Championship golf tournament at Lake Tahoe this weekend, and he's carrying on a tradition that only takes place at this event.
Two years ago, Hawk began the yearly occurrence by tackling a fan on the course. Last year, he did the same. This year, though, the fan took a bit more precaution before getting leveled. He wore a bubble suit of sorts, which cushioned his fall.
It's even better in slow motion, which makes you realize just how hard NFL players hit each other.
Here was his tackle from 2014...
... And from last year.
The event is all about fun and having a good time, but it just wouldn't be the same without Hawk tackling some guy.