WATCH: Just your typical 1-3-2 putout to escape a bases-load jam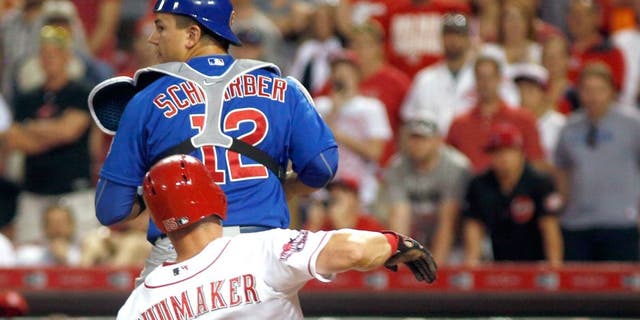 Having already lost Game 1 of Wednesday's split doubleheader at Cincinnati, the Cubs found themselves in a bases-loaded jam with one out in the eighth inning of a tied Game 2.
Needing a double-play ball, Cubs reliever Hecton Rondon served one up, but in a bit of bad luck, Reds slugger Todd Frazier crushed it right off Rondon's leg, and what appeared to be a pretty routine 4-6-3 double play to end the inning was thwarted.
But, in a bit of good luck, the ball ricocheted right off Rondon's leg and into the glove of first baseman Anthony Rizzo, who fired home for your typical 1-3-2 force out.
Rondon survived the collision with the baseball and struck out the next batter. The Cubs scored a run in the top of the sixth and won the game, 6-5.
(h/t Twitter)
Photo Credit: David Kohl-USA TODAY Sports