Watch James van Riemsdyk score a beauty from his favorite spot -- the goal line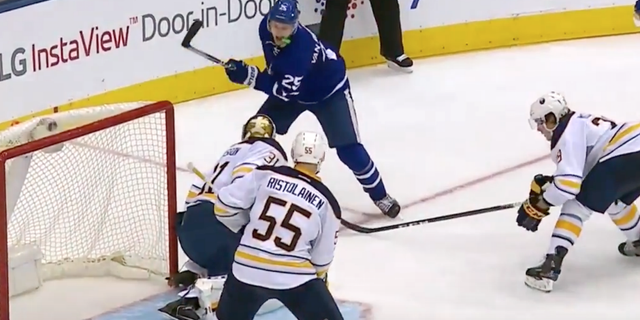 NEWYou can now listen to Fox News articles!
While hockey fans know "Gretzky's Office" is behind the net and "Ovechkin's Office" is the face-off circle to a goalie's right, "van Riemsdyk's Office" might be located directly beside the net to a goalie's left.
Leafs winger James van Riemsdyk showed off his abilities from that spot once again on Tuesday night in Toronto, sniping a top-shelf beauty from an impossible angle on the goal line. Sabres goalie Anders Nilsson didn't give JVR a huge window to work with, but apparently it was big enough. Van Riemdyk hit the elevator button and went straight to the penthouse.
JVR often practices shots from that angle in warmups, which isn't something a lot of guys seem to do. As a result, van Riemsdyk has gotten so deadly from there that it's almost unfair.