WATCH: Holly Holm's teammates celebrate her win over Ronda Rousey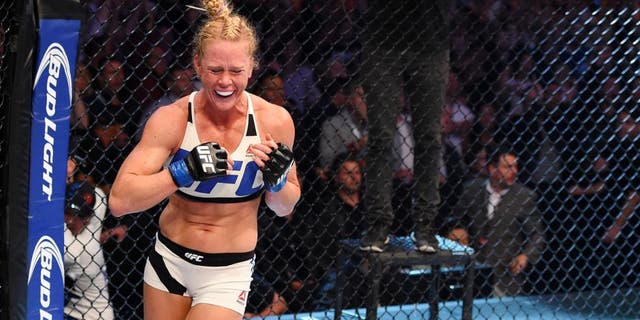 MELBOURNE, AUSTRALIA - NOVEMBER 15: Holly Holm celebrates her second round KO (head kick and punches) over Ronda Rousey (not pictured) in their UFC women's bantamweight championship bout during the UFC 193 event at Etihad Stadium on November 15, 2015 in Melbourne, Australia. (Photo by Josh Hedges/Zuffa LLC/Zuffa LLC via Getty Images) Josh Hedges/Zuffa LLC
Holly Holm had to travel halfway across the world to face Ronda Rousey at UFC 193, but after scoring a shocking second-round knockout, it was all worth it.
The only downside to the fight happening in Australia was that the majority of Holm's teammates from Jackson-Winkeljohn MMA in Albuquerque, New Mexico weren't there in the arena to celebrate with her.
Well, it looks like most of Holm's nearest and dearest all watched her fight together at a local spot in Albuquerque, and they erupted in celebration following her victory over Rousey.
The video shot by MMA reporter Duane Finley includes top ranked lightweight contender Donald "Cowboy" Cerrone and other fighters from the gym who all gathered together to watch their teammate in the title fight on Saturday.
Chances are this celebration won't stop until Holm finally returns home later this week following a few days of vacation in Australia.
Holm expects some waterworks when she finally reconnects with her teammates, who supported her through a tough training camp all leading to the fight with Rousey at UFC 193.
"I'm pretty sure I'll cry a lot if I know me," Holm joked when asked about her New Mexico homecoming.
Holm moved to 10-0 in her MMA career with the victory over Rousey while also becoming only the second ever women's bantamweight champion in UFC history.