Watch goalie Mike Smith score jaw-dropping shot at the NHL All-Star Skills Competition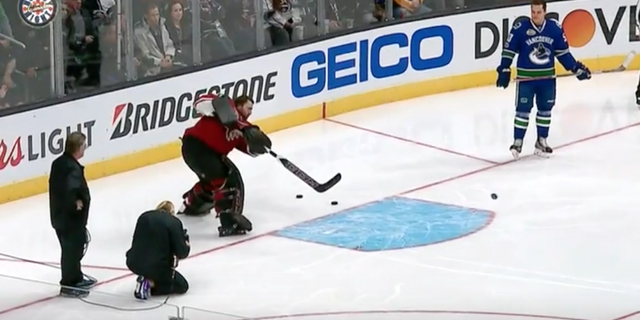 The NHL introduced a new event called the Four Line Challenge on Saturday night's All-Star Skills Competition in Los Angeles. The challenge saw some of the league's best players putting their accuracy on display as the tried to fit the puck in small goal openings from four different spots on the ice.
The furthest spot came from the goal line at the opposite end of the ice, nearly 180 feet away. Asking a skater to hit a tiny opening from that far away is a daunting task, but asking a goalie to do it? Well, that's just crazy.
Or so one might think.
As it turns out, Arizona Coyotes goalie Mike Smith was up to the task. Smith -- who is the last NHL goalie to score in a game -- launched his shot down the ice and managed to find the back of the net via a five-hole opening in the middle of the goal. The incredible display garnered a well-deserved roar from the crowd and some congratulations from Smith's peers on the ice.