Watch first-person footage of Predators' mascot descending from rafters before Cup Final game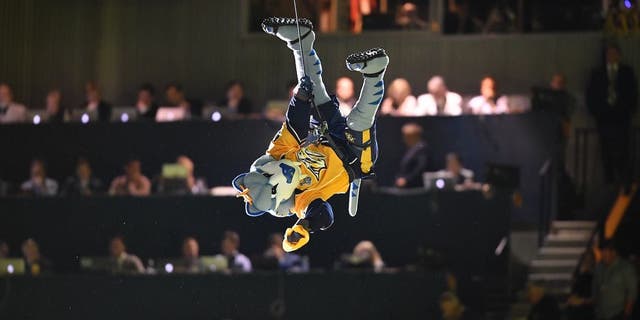 NEWYou can now listen to Fox News articles!
Much was said about Nashville's crazy home atmosphere during the Predators'roadto finishing as runner-ups in theStanley Cup Finalthis year. Despite it not being a traditional hockey market, the city fully embraced its hockey team and it was a lot of fun to see.
Not only wasBridgestone Arena home to someof the loudest and most rowdy crowds during the postseason, but it was also home to one of the most fearless mascots.
Gnash is a good mascot. Not only does he roast the "experts" on Twitter but he also approaches his mascot duties with reckless abandon, and that's something worth appreciating. He has no regard for his own life.
Here he is hanging upside down while suspended from the roof of the arena.
Getty Images
And here he is standing, with both feet, on the very top of a ladder so tall you need an oxygen mask to climb it.
Getty Images
Most people equate being a mascot to just doing a little dancing and throwing out free t-shirts to fans, but Gnash is a different breed. He is dumb, he is wild, he is unpredictable and you can't take your eyes off him. He is the Stanley Cup Playoffs of mascots.
On Thursday, the NHL's official Instagram account gave us a first-person look at the life of Gnash. Apparently he had a body camera attached to him when he descended from the rafters of Bridgestone Arena prior to one of the Stanley Cup Final games in Nashville. It captured some neat, unique footage of the wild scene.
As is usually the case, "Sandstorm" really brings the whole thing together. Honestly, itwouldn't surprise me if that was the only song that Gnash knows.