Watch Ezekiel Elliott tackle a fan who interrupted the Pro Bowl, then beat him in a race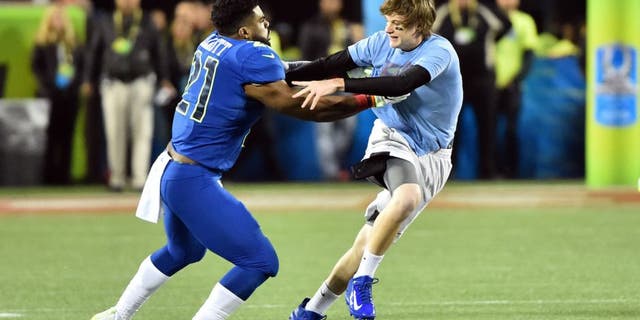 Sunday night's Pro Bowl was relatively uneventful as the AFC squad beat the NFC 20-13, and the best play of the game wasn't a part of the game at all. A fan ran onto the field in Orlando but was quickly met by the league's leading rusher, Dallas' Ezekiel Elliott.
Elliott playfully wrestled him to the ground before reinforcements came as Dolphins pass rusher Cameron Wake picked him up and swung him around a bit.
The fun didn't stop there as the fan took off toward the end zone. Elliott, being the competitor he is, bolted after the guy, but only to race him -- not to tackle him.
Elliott joked about it afterward on Instagram.
Aside from wrestling down the fan and beating him in a race, Elliott struggled a bit in his first Pro Bowl appearance. He carried the ball eight times for 20 yards and failed to find the end zone. Perhaps it's because he wasn't playing behind every member of Dallas' vaunted offensive line.