Watch Emre Can's outrageous goal of the season contender for Liverpool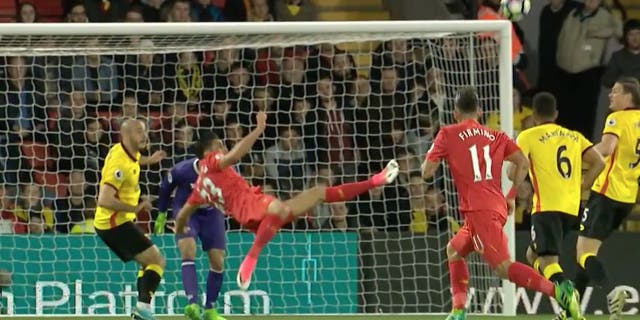 Emre Can did this, and now he has to retire.
Even if he doesn't retire, Liverpool at least have to retire his number. They probably should make him captain too. Maybe give him a 10-year contract?
There are many things to appreciate about this goal, not least the fact that Emre Can is now in possession of every single bit of swagthat was previously allocated evenly around the city of Liverpool. Sorry folks, in need of The Juice today? Our apologies, local footballer Emre Can strolled in here with his entourage and took every single bit of it. There is none left, you will have to remain disliked, unpopular, and completely lacking in stunning overhead kick goals for at least another week.
What do you do as a Watford player in this situation? Do you ask for a sub in the tunnel? Do you immediately call your family and pray they aren't camped out in front of Emre Can's house asking for him to be their new father? Do you prayto Emre Can? We don't know, but something has to be done.
If you find yourself or anyone you know hating on this goal, maybe take a second to step back and think about what really matters. Like dope bicycle kick goals. That's what matters. Never forget that.