Watch: Controversial call in Rangers-Jays game could affect outcome of series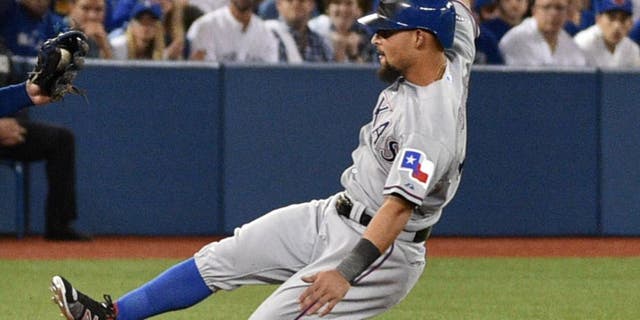 Friday's ALDS Game 2 between Texas and Toronto was a 14-inning marathon that ended on a sour note for the Blue Jays.
With two outs in the 14th and the game tied 4-4, Chris Gimenez's hard-hit single sent Rougned Odor bolting from first to third. But as Odor rounded second, Toronto shortstop Troy Tulowitzki was hot on his trail, and Odor quickly hustled back to second.
Odor was ruled safe, but the Blue Jays challenged the play.
Check it out:
Was Odor safe or out? Did Tulowitzki apply the tag while Odor's foot was off second base? The review crew in New York didn't think it was conclusive enough to overturn the call, and the Rangers won the challenge. A batter later, they had a lead in ALDS Game 2 they wouldn't give up after Hanser Alberto's clutch RBI single.
Up 2-0, Texas benefited from a decidedly controversial instant replay call that may affect how the rest of the series plays out.