Watch Carlos Gonzalez leave Citi Field in less than 4 seconds with crushed HR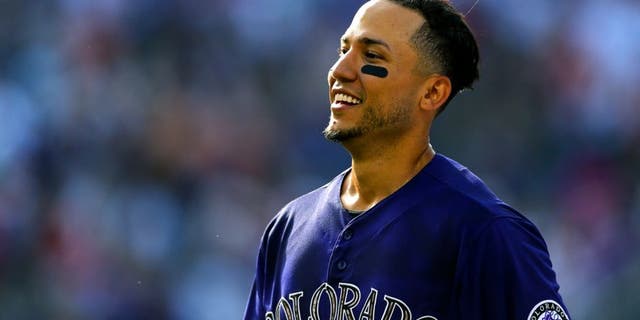 Colorado Rockies outfielder Carlos Gonzalez has been demolishing the ball in the second half of the season, which was no secret when he hit an awe-inspiring home run on Monday.
In the fourth inning of the Rockies' 4-2 defeat to the New York Mets, Gonzalez ripped a line drive to left-center off of a 3-1 fastball from Mets starter Jon Niese.
Just as the Rockies' play-by-play announcer began to make the call that DJ LeMahieu, who was on first base, would have a chance to score on the play, as the ball appeared headed to bounce off the wall, the ball cleared the left-center field wall for a home run.
As impressive as 450-plus-foot home runs are, this shot off CarGo's bat was just as laudable.
For a left-handed hitter to clear the opposite-field wall with a line drive is nothing to scoff at, particularly when it leaves the yard in 3.85 seconds as Gonzalez's did.
Thanks to MLB's Statcast technology, we have more dazzling factoids to venerate.
Gonzalez's exit velocity on the swing was a blazing 110.2 mph with a launch angle of 16.6 degrees. CarGo's low launch angle and lightning launch speed should come as no surprise, as he hit a home run last week that left his bat at an angle of 18.8 degrees and 111.8 mph.
Gonzalez has been tearing the cover off the ball since the All-Star break. The Rockies right fielder has 13 home runs and 29 RBI since the Midsummer Classic, quickly increasing his season totals to 26 homers and 64 RBI with a third of the season remaining.
(h/t MLB.com)