WATCH: Brandon Tate makes incredible diving catch for 55-yard touchdown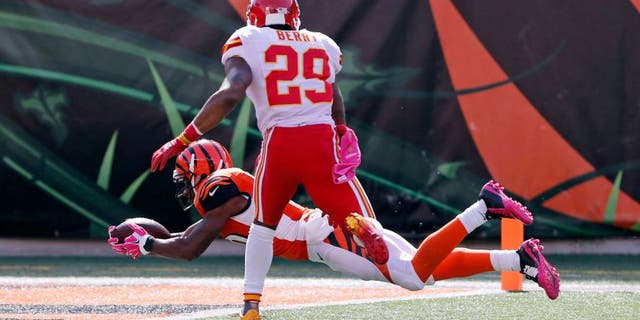 NEWYou can now listen to Fox News articles!
Bengals receiver Brandon Tate made his first catch of the season count.
Tate, relegated to a return role on special teams in the first three games, got behind Chiefs corner Marcus Peters as quarterback Andy Dalton rolled to his right on 3rd-and-11 from his own 45. Dalton's deep ball was reeled in by a diving Tate at the 10-yard line. Tate was then able to quickly get back to his feet and dive to the goal line before getting touched for the touchdown and a 21-12 Bengals lead.
It was the only catch of the day for Tate, but it was a big one, helping the Bengals to a 36-21 victory and a 4-0 start.