WATCH: Baylor's 410-pound TE tells his plot to shake tackler and score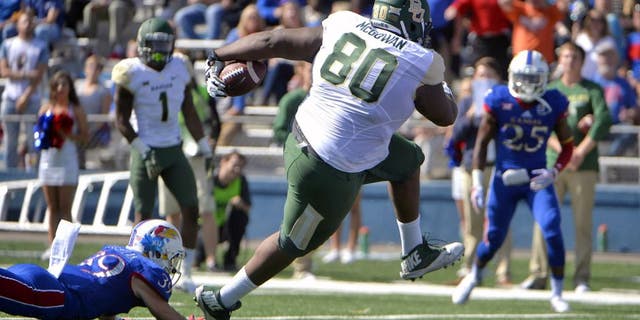 NEWYou can now listen to Fox News articles!
Baylor's 410-pound tight end LaQuan McGowan scored his first touchdown of the season Saturday against Kansas. John Rieger USA TODAY Sports
It seemed the entire college football world was waiting for the moment Baylor's 410-pound offensive lineman-turned-tight-end would finally get the chance to catch his first pass since bursting onto the scene with a rumbling, bumbling touchdown in last year's Cotton Bowl.
That opportunity for LaQuan McGowan came in Baylor's 66-7 pasting of Kansas last Saturday. Early in the second quarter, McGowan lined up in the backfield on first-and-10 at the Kansas 18-yard line. His pass route was simple, a straight line ahead about 7 yards. Completely uncovered, McGowan easily gobbled quarterback Seth Russell's toss at about the 11-yard line.
One Jayhawks defender stood between McGowan and the goal line.
Enter Kansas safety Michael Glatczak, a hardworking, 5-foot-10, 173-pound senior walk-on from Centralia, Kan.
As time froze, Glatczak found himself alone, staring into the belly -- literally -- of a beast who stood 6-foot-7 and 410 pounds all round. David was more fairly matched.
McGowan sized up his options.
"I told myself," McGowan started to explain during Baylor's weekly media conference, "if he stayed up high, I'd run over him. If he went down low, I'd either hurdle him or sidestep him. I'm not very good at hurdling."
Glatczak, clearly of sound mind, went low, hoping beyond hope to clip this unfathomably large and nimble human at the ankles, to send him crashing to the turf before he could reach the goal line. Now at about the 5-yard line, McGowan spied the white-helmeted torpedo targeting his lower leg, and shifted into an elusive half-sidestep, half-high-step motion -- "the old jake leg," as the play-by-play announcer called it -- his right leg deflecting poor Glatczak head-first into the turf, his left leg flinging upward and out.
With the goal line quickly approaching, the jumbo pass-catcher listed to the right, yet he managed to get his right foot down, then his left just before his wheels shot off, sending 400 pounds of flesh and football pads careening into the end zone. And somehow with the grace of a gymnast one-eighth his size, this wrecking ball of a man pulled off a flawless full reverse somersault, springing up onto his knees and then his feet. The celebration was on.
Touchdown, McGowan.