Watch: Astros celebrate Wild Card clinch with raucous clubhouse party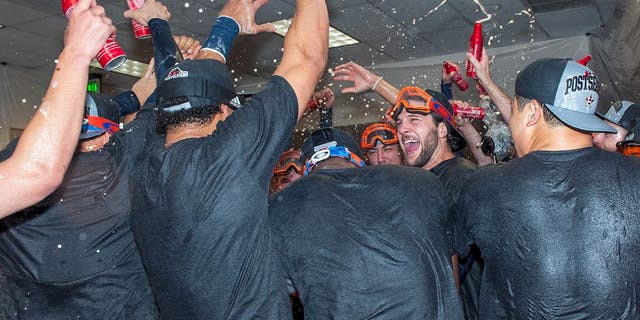 NEWYou can now listen to Fox News articles!
Sunday was a day of celebration for the Houston Astros. Despite losing the final game of the regular season 5-3 to the Arizona Diamondbacks, the Astros made it into the postseason by virtue of the Los Angeles Angels' defeat to the Texas Rangers.
As a result, the Astros will head to the Bronx to take on the New York Yankees on Tuesday night in the AL Wild Card game.
Considering the miraculous ride that has been their 2015 season, the Astros let it all hang out after the game on Sunday, engaging in a raucous party in the Chase Field visitors' clubhouse to commemorate their postseason ticket finally being punched.
Astros GM Jeff Luhnow dropped this quote to MLB.com's Brian McTaggart on Sunday regarding his club's success this season and the journey they had to go through to get there: "We have such a young team, a talented team. This could have gone many different directions this year. A.J. kept the guys focused and they had so much desire inside of them to win. As we started accumulating those wins in April, it started to become a reality for us that we have a chance to make the postseason, and through the ups and downs of a long season they battled through and made it today. I couldn't be happier for them. You know what? They're not done."
Below, enjoy some tweets from the postgame party scene, as shared by MLB.com's McTaggart and Chandler Rome, Evan Drellich of the Houston Chronicle, Julia Morales of ROOT Sports and more:
Outfielder Carlos Gomez took to Instagram to share a few of his celebratory images, including one in which he is 'interviewing' Morales. Safe to say, the vibe was pretty happy:
MLB.com put together a 13-minute clip featuring interviews from the Astros' clubhouse for an even more in-depth look at all the fun:
With this big party out of the way, the Astros can now focus their attention on preparing for Tuesday's Wild Card game, which will pit ace Dallas Keuchel (on three days' rest) against the Yankees' Masahiro Tanaka.