Watch Antonio Conte go wild with joy after Chelsea's crucial win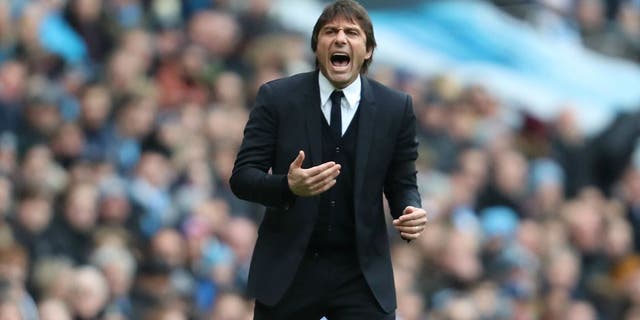 Chelsea appear to be pulling away in the Premier League title race. For fans of the Blues, who have been on fire, it feels a bit like a formality that their club will hoist the trophy.
Thats especially true after Chelseas 3-0 away win over Everton on Sunday. It was arguably Chelseas last true test of whether they had enough in the tank tofinish out the season on top, and they passed with flying colors.
Manager Antonio Conte knew it, and he didnt hold his pure joy in. In a stream of double fist-pumps and claps, he was also seen hilariously jumping on the back of his tallest goalkeeper, Thibaut Courtois:
Not many coaches would do that, but the animated Conte isnt an easy coach to predict. Its even funnier that 5-foot-10 Conte can be seen, without any warning, lunging on the back of 6-foot-6 Courtois.
Conte is known for his fiery personality and hes admitted that when he gets angry, he is capable of killing anybody. The players are probably terrified of getting on the end of one of his tirades. But it all balances out, because when Chelsea players step up, Conte is running over with gleeful bear hugs and smiles:
Its not a done deal yet, but Chelsea aren't far from lifting the Premier League trophy now. The Blues are four points ahead of the next challenger with four games left, three of them at home. With the way the Blues are playing, its hard to imagine anyone else topping them.
Conte, along with everyone else, knows it.
MORE FROM FOX SOCCER