Washington uses strong defensive effort to stymie Cal Poly in 75-62 victory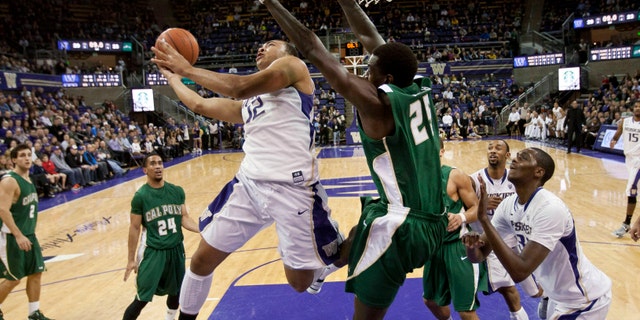 SEATTLE – C.J. Wilcox scored 21 points, and Washington used one of its best defensive efforts of the season to shake pesky Cal Poly 75-62 on Thursday night for the Huskies' first three-game win streak of the season.
Scott Suggs added 12 points for the Huskies, who play one more home game on Saturday against Northern Illinois before beginning a challenging four-game road swing beginning Dec. 29 at Connecticut.
Leading by eight at halftime, the Huskies (7-4) held the Mustangs scoreless for nearly 7 minutes early in the second half to build a 20-point lead and coast to the decisive victory.
Chris Eversley led Cal Poly (4-6) with 23 points, but the Mustangs were unable to pull off the upset on a second Pac-12 school this season after stunning UCLA last month.